Latif Learned: 'Carrier'
Web Resources
Solo musician Latif Learned, also known as Donald Latif Anderson, began playing music when he picked up his mother's acoustic guitar at the age of fifteen. According to Anderson, he "hasn't stopped playing music since."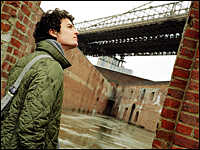 Anderson wrote most of the songs on his album Little Ruins when he graduated from college and moved to Montpellier, France. The music came out between hitchhiking trips and "general bumming around."
Anderson's brand of folk pop is diverse, in part, because of his flamenco guitar studies in Grenada, Spain. He's played with everything from big band jazz groups and bossa nova combos to an electronic music group called Ugly By Now.
Anderson says Little Ruins is "the distillation of the solo writing that I've done when not in bands. I've been traveling enough over the past year that it's been hard to keep a band together, so I decided to finally record this music. The album has been many years in the writing, but just one year in the making."
The featured track off of Little Ruins is "Carrier."