Mass. Court Limits Gay Marriage to Residents
The highest court in Massachusetts rules that, in most cases, gay and lesbian partners from out of state may not come to the state to marry. Massachusetts is the first and only state to have legalized gay marriage. But there may be an opening for some non-residents.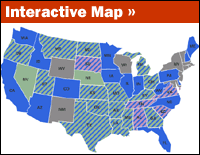 RENEE MONTAGNE, host:
The highest court in Massachusetts, the first and only state to legalize gay marriage, ruled today that in most cases, gays from out of state cannot come to Massachusetts to marry. But there may be an opening for some residents from some states. NPR's Tovia Smith reports from Boston.
TOVIA SMITH reporting:
The decision comes in a suit filed by eight out of state couples who were either refused permission to marry here, or did manage to slip through and marry, but were then told their marriage would not be recognized. For those couples in limbo, today's decision means either no marriage or more limbo. At issue is an old, 1913 Massachusetts law that prohibits couples from marrying here if their marriage would be void back in their home state. Governor Mitt Romney started enforcing the law, saying he did not want Massachusetts to become the Las Vegas of gay marriage. But gay rights advocates said it was discriminatory to dust off the law now to use against gay couples. Today's Massachusetts Supreme Judicial Court ruling was mixed.
The justices said couples who come from states where gay marriage is expressly prohibited cannot come here to marry, but those who come from states that are silent on the issue--that is, they don't allow it or prohibit it--those couples, may, in fact, marry here. The court mentioned New York and Rhode Island in particular, but opponents of gay marriage are hoping are states like those, that have not already prohibited gay marriage, will do so soon. In New York, the issue is pending at the state's highest court right now. And as for other states, as one attorney put it, if states didn't think it was important to have defense of marriage acts on the books before, they will now.
Tovia Smith, NPR News, Boston.
NPR transcripts are created on a rush deadline by Verb8tm, Inc., an NPR contractor, and produced using a proprietary transcription process developed with NPR. This text may not be in its final form and may be updated or revised in the future. Accuracy and availability may vary. The authoritative record of NPR's programming is the audio record.