The Sky Seer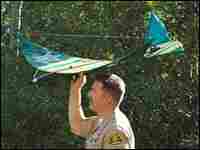 Living in L.A., you get to know all the helicopters by sound. Oh, that's the county sheriff. This one? Definitively Coast Guard. That? Oh just the traffic guys spying on the 110. Los Angeles is a city under constant surveillance so maybe it isn't surprising that law enforcement officials would come up with a new way to watch you.
That dot high in the clouds is the Sky Seer... a robot drone about the size of a model airplane. At 250 feet in the air, you can't see it but it can see you. Xeni Jardin attended a test of the plane in L.A. and had the story for NPR's Day to Day.
The big problem, though, is that at a top speed of 29 miles an hour, this little plane won't be able to follow highway chases. So without the entertainment value, what's the point?
Also worth checking out on Day to Day: An angle on the illegal immigration debate you can stomach. Mike Pesca looks into how undocumented workers are propping up the restaurant industry.