Heisting, and Hoisting, a Cannon in Prank War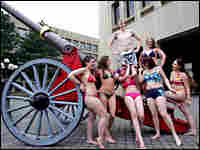 In the latest development in the CalTech-MIT prank war, MIT students stole a two-ton Spanish-American war cannon from a courtyard at Cal Tech and set it up in their courtyard back at MIT.
Melissa Block talks with David Somers, assistant professor of psychology at Boston University. Somers participated in the heist of the very same cannon from the very same place 20 years ago. He and his fellow Harvey Mudd College students took the cannon back to their campus.