Lost Lester Young Jam Session Turns Up
Lost Lester Young Jam Session Turns Up
This week, the Library of Congress announced 50 more audio recordings it will preserve... and the discovery of a previously unknown recording by jazzman Lester Young. The piece was recorded in 1940, probably in New York City.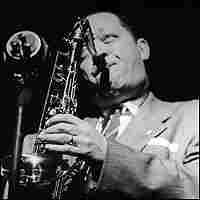 Ronald Startup/Hulton Archive/Getty Images
SCOTT SIMON, Host:
We think it's possible that the Library buried the lead, because this week they also announced the discovery a rare find, a previously unknown recording of Lester Young. The master of the tenor sax is heard jamming with Chad Collins, J.C. Higginbotham, Sammy Price and Doc West in December, 1940, maybe at the Village Vanguard in New York. One jazz fan compared it to finding a Shakespeare sonnet or a short story by Ernest Hemmingway. So let's just listen and enjoy it.
(SOUNDBITE OF JAZZ RECORDING)
SIMON: Lester Young, at 22 minutes before the hour.
NPR transcripts are created on a rush deadline by Verb8tm, Inc., an NPR contractor, and produced using a proprietary transcription process developed with NPR. This text may not be in its final form and may be updated or revised in the future. Accuracy and availability may vary. The authoritative record of NPR's programming is the audio record.