At the Old Cookbook Shop, a Taste for Nostalgia
At the Old Cookbook Shop, a Taste for Nostalgia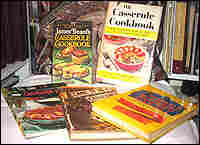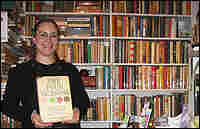 Most who enter Bonnie Slotnick's small New York City shop find themselves reconnecting with their childhood. Its shelves are stacked with rare and out-of-print cookbooks.
Slotnick helps reunite people with long-lost recipes... and memories. Many of the customers visiting her Greenwich Village store confess that they rarely cook. But to Slotnick, cookbooks are more than a simple means to an end.
"I don't think there's anything to be ashamed of in reading cookbooks for the pleasure of reading cookbooks. And not cooking," she says.
In her tiny shop, stacks of books reach to the ceiling and the walls are decorated, too: An advertisement shows Aunt Jemima selling pancakes in Yiddish, and there is a print of the great literary cookbooks with titles such as The Bread Also Rises and Remembrances of Things Pasta.
Irene Sax, a food critic who frequents the shop, recently stopped by to do research about casseroles from the 1950s. Emily Elliott, an aspiring chef from North Carolina, showed up in search of information about vesiga (spinal marrow from the sturgeon), which was considered a delicacy in 19th-century St. Petersburg.
Slotnick, a small woman with a librarian's demeanor, says cookbooks often serve as family scrapbooks. Even the bookmarks she finds preserve the past. "I have nostalgia for times long before I was born, places I don't know, and opening a cookbook, just about anytime, anywhere, takes me away," she says.
One of Slotnick's favorites is a memoir called The Country Kitchen in which family recipes are worked seamlessly into the narrative.
Another gem is a church-lady cookbook published as a centennial version in 1911 by the charitable Dorcas Society of rural Maine. It contains a recipe for scripture cake... the ingredients come with an appropriate biblical chapter and verse. (Dorcas appears in Acts 9:36; she's "full of good works and almsdeeds.")
"How they got cream of tartar from Matthew 13, I do not know," Slotnick says. "But I'm dying to look it up!"
Scripture Cake
From Dorcas Dishes: A Little Book of Country Cooking, 1911... family recipes contributed by the Dorcas Society of Hollis and Buxton, Maine, edited by Kate Douglas Wiggin for a privately printed centennial edition.
(Mrs. J.W. Meserve)
1 cup butter (Judges 5:25)
3 1/2 cups flour (1 Kings 4:22)
2 cups sugar (Jeremiah 6:20)
2 cups raisins (1 Samuel 30:12)
2 cups figs (1 Samuel 30:12)
1 cup water (Genesis 24:17)
1 cup almonds (Genesis 43:11)
1/2 dozen eggs (Isaiah 10:14)
Tablespoon honey (Exodus 16:21)
A pinch of salt (Leviticus 2:13)
Spices to taste (1 Kings 10:10)
1/2 teaspoon soda (Matthew 13:33)
1 teaspoon cream tartar (Matthew 13:33)
Father Solomon's advice for making good boys (Proverbs 23:13)
It's typical of recipes from earlier days that they assumed general knowledge on the part of the reader -- for example, how long to bake a cake. Try baking the scripture cake in a 350-degree oven until a knife or a toothpick inserted in the center comes out clean.
(For those among our listeners who don't have a Bible handy, Proverbs 23:13 reads: "Withhold not correction from the child: for if thou beatest him with the rod, he shall not die." Scripture Cake, apparently, was meant to be well beaten.)
The Scriptural References
(Source: King James Bible via BibleGateway.com)
Judges 5:25: "He asked water, and she gave him milk; she brought forth butter in a lordly dish."
1 Kings 4:22: "And Solomon's provision for one day was thirty measures of fine flour, and threescore measures of meal..."
Jeremiah 6:20: "To what purpose cometh there to me incense from Sheba, and the sweet cane from a far country? your burnt offerings are not acceptable, nor your sacrifices sweet unto me."
1 Samuel 30:12: "And they gave him a piece of a cake of figs, and two clusters of raisins: and when he had eaten, his spirit came again to him: for he had eaten no bread, nor drunk any water, three days and three nights."
Genesis 24:17: "And the servant ran to meet her, and said, Let me, I pray thee, drink a little water of thy pitcher."
Genesis 43:11: "And their father Israel said unto them, If it must be so now, do this; take of the best fruits in the land in your vessels, and carry down the man a present, a little balm, and a little honey, spices, and myrrh, nuts, and almonds:"
Isaiah 10:14: "And my hand hath found as a nest the riches of the people: and as one gathereth eggs that are left, have I gathered all the earth; and there was none that moved the wing, or opened the mouth, or peeped."
Exodus 16:21: "And they gathered it every morning, every man according to his eating: and when the sun waxed hot, it melted."
Leviticus 2:13: "And every oblation of thy meat offering shalt thou season with salt; neither shalt thou suffer the salt of the covenant of thy God to be lacking from thy meat offering: with all thine offerings thou shalt offer salt."
1 Kings 10:10: "And she gave the king an hundred and twenty talents of gold, and of spices very great store, and precious stones: there came no more such abundance of spices as these which the queen of Sheba gave to king Solomon."
Matthew 13:33: "Another parable spake he unto them; The kingdom of heaven is like unto leaven, which a woman took, and hid in three measures of meal, till the whole was leavened."
Proverbs 23:13: "Withhold not correction from the child: for if thou beatest him with the rod, he shall not die."