Modern Roller Girls Find Sisterhood at the Rink
Modern Roller Girls Find Sisterhood at the Rink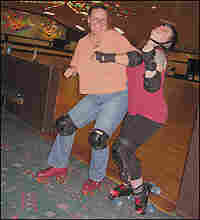 How They Score
&nbsp
A roller derby "bout" involves two teams. Each team has a "jammer," a player designated to score points. Jammers earn points by successfully breaking through a pack of the rival team's "blockers" — sort of the defensive tackles of skating. One point is earned for each rival blocker the jammer is able to pass.
Roller Derby was one of the first sports on television. And it remained popular on TV into the 1970s, when it was still hot enough to merit a big-screen film, Kansas City Bomber, starring Raquel Welch.
Then it fizzled, at least as nationwide entertainment, and attempts to bring it back to TV were unsuccessful.
More from the Interview
'Little Richard' Brown on Roller Derby Life
But today there's a grassroots revival of the raucous sport, and it's being led by women like those who are part of Baltimore's Charm City Roller Girls... one of dozens of all-female roller derby leagues popping up around the country.
The Charm City league has four teams: the pink-clad Junkyard Dolls, the Mobtown Mods in 60s minidresses, the Night Terrors in blue and black (or is that black and blue?) and the Speed Regime in olive drab. They practice at Putty Hill Skateland in Baltimore.
And it's not just the teams that have nicknames. The competitors trade in their pedestrian real names for more colorful monikers: Kristen Hendrick, a sweet-faced mother of two, becomes Mercy Less on the rink. This is, after all, a contact sport. And she's trading elbows with the likes of Lights Out Lisa Marie, Berzerker and Ivana E. Charbrains.
They've also got announcers: two guys who call themselves Colonel Kurtz and Dirty Marty. And referees: Justice Feelgood Marshall. A guy with glasses called Johnny Crash, the Man in Black and White. Colin Fouls. And a woman ref called Penaltina.
The first league game for the Charm City Roller Girls is Sunday night at the Putty Hill Skateland. If you've got skates and a surplus of attitude, they're holding tryouts in October.
A Bit of Derby History
Ron Burton/Keystone/Getty Images
The roller derby first grew out of an event conceived by sports promoter Leo Seltzer in 1935. Thousands flocked to the Chicago Coliseum to see couples teams skate continuously for more than a month, simulating a trip cross country. After the huge success, Seltzer created a derby that toured the country.
In the late '30s, the derby became more of a contact sport. Sportswriter Damon Runyon added his own flair to the game. Teams were able to earn points by passing members of the rival team with each successive revolution. A violent showmanship soon became a trademark of the derby.
The roller derby appeared in over 50 major cities in 1940, playing to more than 5 million spectators, according to National Museum of Roller Skating web site.
World War II put a cramp in the derby's success, with many players drafted and dwindling audiences. But the 1970s saw derby mania fully revived through popular camp films and television series such as the 1972 film Kansas City Bomber starring Raquel Welch and the staged competitions of Roller Games.
Today, there are dozens of national derby leagues... as many as 108, according to Kristin Hendrick, a founding member of Baltimore's Charm City Roller Girls.
A Twisted Sorority
Glenn Chapman/AFP/Getty Images
The Mobtown Mods, The Night Terrors, The Junkyard Dolls… these are just a few of the teams that compete with the Baltimore-based Charm City Roller Girls, the latest throwback to the bygone era of the American roller derby.
Taking their cue from other women's leagues from Minnesota to Texas, the Baltimore group is redefining the roller girl of the 21st century as different from the violent vamps made popular by 1970s era shows like Roller Games. These gals own and run the league themselves. They pride themselves on athleticism and sportsmanship in the style of derby-great Ann Calvello, who died of cancer last month after an athletic career that spanned seven decades.
Established last year, Charm City Roller Girls, LLC has grown much beyond its humble beginnings of informal afternoons at Skateland. It's a league with 46 members. The group has attendance and dues requirements and adheres to the rules and regulations established by the Women's Flat Track Derby Association, a collection of skater-owned leagues that CCGR intends to join. Tattoos are optional.
"We can we can control our own image and the way the sport is played," says Kristin "Mercy Less" Hendrick, a member of Charm City's Mobtown Mods. She describes the group as "a really tight, really supportive community" with a strong emphasis on feminism and sisterhood. Rules against gossiping and other negative behavior are incorporated into the league's bylaws.
Many league members are working moms but on the rink, they take on alter egos: Betsy Battleaxe, Roxy Toxic and Cindy Lop-her, to name a few. "We're leading double lives," Hendrick says. The bouts, which are drawing large crowds, are family events. Still, when adrenaline gets pumping, real fights do happen.
Teams also act as social support networks. From birthday to divorce parties, the league is a unique community one member described as "a twisted sorority."
It's a way to blow off steam, too.
"There just aren't enough places for women to form a community and play a contact sport in adult life," Hendrick says.
Related NPR Stories
Web Resources