Studies Raise Concerns Over Heart-Device Reliability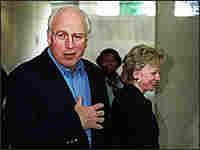 Two studies in this week's Journal of the American Medical Association raise concerns about the reliability of implantable cardiac defibrillators (ICDs), like the one Vice President Dick Cheney has inside his chest. While these devices have saved countless lives from sudden heart attacks, researchers say they need to be more closely monitored for possible malfunctions.
The two studies examine the reliability of both pacemakers and ICDs. Dr. William Maisel, a cardiologist who specializes in heart rhythms, directs the pacemaker and devices service at Beth Israel Deaconess Medical Center in Boston and is a professor at Harvard Medical School. He's been interested in heart device reliability for the last few years, ever since he studied the number of advisories issued by the Food and Drug Administration (FDA) regarding the devices' potential for malfunction.
Both pacemakers and ICDs are about the size of small pagers. They're implanted under the skin in the chest and then attached to wires that go into heart. They monitor heart rhythms and automatically intervene if there's an abnormal heart rhythm.
The pacemaker looks for slow rhythms, and, if it detects one, sends an electronic impulse to the heart to make it beat faster. Similarly, an ICD monitors heartbeat but it looks for dangerously fast rhythms. It, too, automatically detects the abnormal rhythm and then restores the heartbeat to normal in one of two ways. If the patient has a very fast, potentially lethal heart rhythm, the device delivers a shock. It's much like you see on TV, says Maisel, when a paramedic delivers an external shock through paddles to a patient's chest.
Only in the case of an ICD, the device acts internally and automatically in a matter of seconds and often without the patient even knowing it.
On the other hand, if patients have "medium" fast heart rates -- meaning the heart rate may be abnormal but is not immediately life threatening -- the defibrillator can deliver a low-energy impulse to try to terminate the rhythm and restore heartbeat back to normal. Maisel says this works 75 percent of the time and that patients' abnormal heartbeats are restored "without patients ever being aware that it's happening."
But these devices can malfunction. In Maisel's study, pacemaker malfunction decreased rather dramatically over the study period, between l990 and 2002. But ICD malfunction increased.
Of the 2.25 million pacemakers implanted and 415,780 ICDs implanted, there were a total of 17,323 malfunctions. All resulted in device removal, with 8,834 pacemakers and 8,489 ICDs taken out of patients. Battery or capacitor abnormalities and electrical issues accounted for the majority of malfunctions.
The overall malfunction replacement rate for ICDs was about 2 percent, meaning that one out of every 50 devices had to be replaced due to potential for malfunction. For pacemakers, that rate was less: 1 out of every 200 had to be replaced due to the potential for malfunction. Maisel suggests that the ICD malfunction rate was higher because the device is significantly "more complicated and sophisticated" than the pacemaker.
Even so, Maisel says he doesn't think doctors -- even those who specialize in heart rhythms -- expected these results.
"I did ask physicians about expected device reliability a couple of years ago," he says. "And those answers suggested that physicians estimated device reliability by a factor of 10 to 100, meaning they felt that the devices were 10 times more reliable than they really were."
Over the course of the 12-year period researchers examined, there were a total of 61 deaths that resulted from the devices not working. Thirty were pacemaker-related deaths; 31 were ICD-related deaths.
Maisel says manufacturers need to make such information about potential problems more clearly and publicly available, both to doctors and patients.
In another study published in JAMA, Canadian researchers found that taking out a faulty device can cause substantial complications. These complications included infection, pain, and, in rare cases, death.
In a related editorial, Cleveland Clinic heart rhythm specialist Bruce Wilcoff says no medical treatment comes without some risk. "We have a disease process, sudden cardiac death," says Wilcoff, "which is the no. 1 killer in the U.S. today. And we also have a therapy -- the only therapy -- which makes a difference in this regard and that works extremely well." But, he adds, "this therapy doesn't come with zero risk".
Wilcoff says it would be a shame if heart patients were scared of receiving these life-saving devices. And he agrees with Maisel, who says his study should be viewed in context.
"The chances of an implanted defibrillator saving a life," he says, "are 1,000 times greater than the chance of its malfunctioning when needed."