Robert Smigel's Saturday 'Funhouse'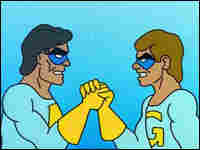 This weekend, Saturday Night Live will devote its 90 minutes a collection of Robert Smigel's TV Funhouse shorts. Those satirical cartoons featured gags such as the Ambiguously Gay Duo and X-Presidents. Smigel wrote for SNL from 1985-1993, and he was the original headwriter and producer of Late Night With Conan O'Brien.
This interview originally aired on Aug. 20, 1997.