'Clemente' Tells Story of a True Baseball Hero
'Clemente' Tells Story of a True Baseball Hero
Many of today's baseball icons owe a debt to the first Latin-American superstar: Roberto Clemente. His 18 seasons with the Pittsburgh Pirates were a kaleidoscope of batting titles and brilliant defensive plays.
On the last day of the 1972 season, Clemente collected career hit number 3,000. He died three months later, in the crash of a charter plane he had hired to take relief supplies to survivors of an earthquake in Nicaragua.
Clemente's legacy is the latest topic for Pulitzer-winning journalist David Maraniss. The author tells Don Gonyea about the biography Clemente.
A Roberto Clemente Timeline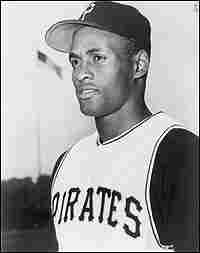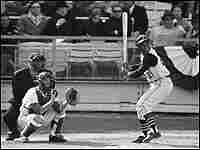 Highlights of Roberto Clemente's life and baseball career:
August 18, 1934: Roberto Clemente y Walker is born in Carolina, Puerto Rico. Walker is his mother's last name. His Hall of Fame plaque will read Roberto Clemente Walker.
October 9, 1952: Clemente signs with the Santurce Crabbers of the Puerto Rican winter league for $5,000.
1953: The Brooklyn Dodgers, who broke baseball's color barrier with Jackie Robinson, sign Clemente for $10,000.
November 22, 1954: After a year with the Dodgers' minor-league affiliate in Montreal, where Robinson also played, the Pittsburgh Pirates choose Clemente in the first round of the minor league draft.
April 17, 1955: Clemente makes his major league debut with the Pittsburgh Pirates.
1960: The Pittsburgh Pirates win the World Series. Clemente feels slighted after finishing 8th in the National League Most Valuable Player voting.
1961: Clemente records 27 outfield assists and wins the first of 12 consecutive Gold Gloves for his defensive play in right field. Clemente also leads the National League in batting, finishing the season with a .351 average.
1964: Clemente wins a second NL batting title with a .339 average.
November 14, 1964: Clemente marries Vera Cristina Zabala in San Juan, Puerto Rico. They will go on to have three children: Roberto Jr., Luis Roberto and Enrique Roberto.
1965: Clemente wins his third NL batting title with a .329 average.
1966: In what is widely considered his best season, Clemente wins the National League Most Valuable Player award. He hits .317 with 29 home runs and 119 runs batted in.
1967: Clemente wins his fourth (and final) NL batting title with a .357 average.
October 17, 1971: The Pittsburgh Pirates win the World Series against heavy favorites, the Baltimore Orioles. Clemente hits safely in all seven games, including a pivotal home run in Game 7. He is named the World Series Most Valuable Player.
September 30, 1972: Clemente doubles against the New York Mets in his last game of the season, marking career hit 3,000. He is the first Latin player and just the 11th in baseball history (at that time) to reach the milestone. He dedicates the hit to "the Pittsburgh fans and to the people in Puerto Rico."
December 23, 1972: A devastating earthquake hits Managua, Nicaragua. Clemente decides to gather relief supplies and help deliver them to quake survivors.
December 31, 1972: The plane Clemente charters for his humanitarian mission crashes into the ocean shortly after takeoff, killing the baseball star and four crew members.
March 20, 1973: In an unprecedented move, The Baseball Hall of Fame unanimously waives the customary five-year period for induction, allowing the Baseball Writers Association of America to hold a special election on Clemente's behalf.
August 6, 1973: Clemente is inducted into Baseball's Hall of Fame. He is the first Latin-born player so honored.
-- Compiled by Ben Brudevold-Newman
Sources: Baseball Hall of Fame, Smithsonian Insititution.
Excerpt: 'Clemente'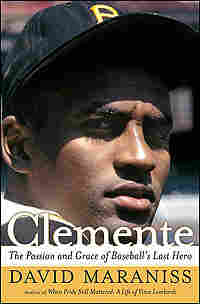 ...Like an animal preparing his ground. Or maybe fortifications, that is the metaphor that popped into one observer's head --a French general preparing his fort. He would hold his bat with his left hand and raise the other toward the ump -- momentito, momentito for Momen -- as he rearranged dirt and dust with his polished leather shoes, spikes gleaming, until it was just right. By now the pitcher was ticked. But there was little in the way of filibustering from then on, no constant stepping out of the box and repeating a superstitious ritual after every pitch, aside from the occasional revolving of the neck. When his workplace was ready, he would take his stance, left leg coiled, hands back, stance way off the plate, back near the line, beseeching the ball, bring it on. He would take the first pitch, almost always, in order to calculate the timing and motion, but then let it rip. And for someone not known as a slugger, what a rip it was. Jim Murray, the Los Angeles Times sports columnist who made his living off metaphors, wrote that Clemente "had a batting style like a man falling down a fire escape." His swing, Bruce Laurie thought, was the mirror image of the throw -- "a great swirling motion in blinding speed that routinely dislodged his batting helmet." Both Laurie and Fineman felt this odd sensation, a ripple of joy even in a Clemente swing and miss. There was such pent-up intensity in the moment that it seemed to Fineman that Clemente's "entire being was at stake with every pitch." One image that stuck was of him flinging himself and the bat toward a high-outside pitch and literally leaving his feet altogether to make contact, stroking a shot down the right-field line.
Donn Clendenon and other teammates would joke that there were three great left-handed pull hitters in the National League who scared the hell out of every first baseman: Willie McCovey, Billy Williams, and Roberto Clemente, who, of course, was no lefty at all.
In repose, there was a grace and beauty to Clemente. "Compact, flawlessly sculpted, with chiseled ebony features and an air of unshakable dignity," Roy McHugh reflected later. "He carried himself -- everybody noticed this -- like royalty." At times, as Clemente posed on second after a double, McHugh thought of "Michelangelo's statue of David -- David wearing a baseball uniform." But in action everything changed; Clemente was all fury and agitation. A writer once described Willie Mays as liquid smooth. With Clemente, there was a liquid nature to his eyes and body, but only until he ran; then it was gone. Steve Blass and his Pirates teammates took goofy joy in watching Clemente run. He ran everything out, first of all, full speed, head down, every feeble tap back to the pitcher, and he worked so hard at running. They would tell him he looked like a broken windmill, every limb rotating a different direction. Clemente didn't actually run, they would say, he galloped.
From Clemente by David Maraniss. Copyright © 2006 by David Maraniss. Reprinted by permission of Simon & Schuster, Inc.
Books Featured In This Story
Clemente
The Passion And Grace of Baseball's Last Hero
Hardcover, 401 pages |
purchase
Buy Featured Book
Title

Clemente

Subtitle

The Passion And Grace of Baseball's Last Hero

Author

David Maraniss
Your purchase helps support NPR programming. How?