Barbaro Benefits from Medical Advances
Barbaro Benefits from Medical Advances
Sabina Louise Pierce/University of Pennsylvania
Sabina Louise Pierce/University of Pennsylvania
Kentucky Derby winner Barbaro is continuing to improve following marathon surgery over the weekend. The colt shattered his right hind leg in Saturday's Preakness, the second jewel of thoroughbred racing's triple crown.
Modern Medicine for Barbaro
Julie Rovner, an NPR health policy correspondent and a longtime horse owner, describes Kentucky Derby winner Barbaro's care and the outlook for his recovery.
Barbaro's surgeon, Dean Richardson of the University of Pennsylvania's New Bolton Center, told reporters Tuesday that he's encouraged with the colt's progress.
New Bolton Tour
Jane Simone, director of development for New Bolton Center, gives Julie Rovner a tour of the facility.
Barbaro Benefits from Medical Advances
"He's got absolutely normal vital signs; temperature, pulse, respiration; attitude, appetite," Richardson says. "He actually was scratching his left ear with his left hind leg, which is his good leg."
That's significant, Richardson says. It means Barbaro was comfortable putting that much more weight on his bad leg.
Not too long ago, vets wouldn't have even tried to save Barbaro. But much has changed in the care of catastrophically injured horses since the champion filly Ruffian had to be put down in 1975 following a somewhat less severe injury sustained in a match race with that year's Kentucky Derby champion Foolish Pleasure.
In fact, veterinary medicine has advanced so much that Richardson joked about it at the news conference to discuss Barbaro's condition Tuesday. He said he was a bit concerned that the university has set up a special e-mail address for the public to send the horse messages.
"I'm a little upset this is the first I've heard about the e-mail, because we actually don't have a keyboard in his stall yet," Richardson says.
But Barbaro's stall is about the only place at the New Bolton Center, about a half-hour drive west of Philadelphia, where you won't find the very latest in high-tech medical equipment.
Other than animal footsteps, and wards with stalls instead of beds, New Bolton looks a lot like many human hospitals. There's a neonatal unit, a sports medicine facility, even a giant treadmill. In radiology, where patients include not just horses but sheep, goats, antelope -- even an occasional elephant, Dr. Lexie McKnight describes the giant MRI machine.
"It's similar to an Oreo cookie without the cream in the middle,"McKnight says. "And in between there's a space for a human or a patient or a horse to position a portion of their body, such as a head or an ankle or a foot into the center of that hole, where we can acquire images about the anatomy."
On the other side of the padded wall, a horse and a goat are undergoing routine surgery in the same room. Vets here have advanced furthest, though, in caring for horses with critical injuries like Barbaro's.
"Everybody's focused on the injury; on that one bone," says Joan Hendricks, dean of the University of Pennsylvania Vet school, "but the entire other 999 pounds of the horse; the level of care that we've learned to do with the intensive care unit; it's 24/7; it has been for 10 or 15 years now."
Hendricks, says that unlike with humans, a broken leg has long been a life-threatening event for a horse, because you can't just put them on bed rest.
"If a horse does not bear weight evenly on all four legs, the legs that are not injured suffer terrible inflammation and changes in blood flow," she says. Eventually, the problem, called laminitis, can become so severe that "you can't sustain the horse," she says.
Vets have made major strides in equine surgery with the use of titanium implants and less invasive techniques, but the most dangerous part remains not the surgery itself, but what happens when you wake the horse up, Hendricks says.
"Anybody waking up from anesthesia is confused, and kind of thrashes around; not just horses. But here we have a large, young animal, and in some cases, particularly anxious," she says.
That thrashing around, in fact, is what led to the death of Ruffian, who survived the surgery following her broken leg, but couldn't be controlled when she woke up. So New Bolton has pioneered the wake-up pool. Anesthetized horses are carried in a sling from the operating room, then lowered into a rubber raft that fits over their legs like a giant horse glove. Then the horse is lowered into a pool, so if it thrashes, it can't re-injure itself.
The process is both time- and labor-consuming.
"At one end of this raft is an inflatable area where, once the animal is in the water, we inflate that and the recovery team sits around the animal's head to make sure that as it awakes it is kept calm," says Jane Simone, New Bolton's development director. "There's a huge crew on hand to recover an animal in a pool. About a dozen were here for Barbaro, and always a technician at the head of the animal and Dr. Richardson coming in frequently to check on him."
And all that specialized care does not come cheap. Barbaro's bills will certainly run into the tens of thousands of dollars, his vets acknowledge. Vet school dean Joan Hendricks says veterinary medicine is facing the same dilemma as human medicine: There's a growing gap between what doctors can do and what people can afford.
"As we become capable of doing extraordinary things that sometimes work; and then everybody really wants -- everybody loves their animal and wants the absolute ultimate to be done -- how does society afford that for any living creature?" Hendricks says.
Money is not an issue for Barbaro's owners, however. They are major donors to New Bolton, and Gretchen Jackson, who owns the horse with her husband, is a member of the vet school's board of overseers. At the news conference, Gretchen Jackson stressed that she would have wanted the same care even if Barbaro didn't have a potentially lucrative future as a breeding stallion.
"I hope there's some knowledge now that owners and trainers and jockeys care. It's not about the money; it's not about the limelight," she said. "What's better than love? I don't know."
Barbaro Continues to Improve After Surgery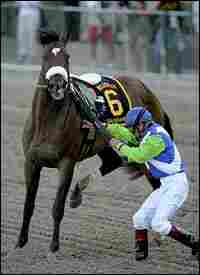 Matthew Stockman/Getty Images
KENNETT SQUARE, Pa. (AP) -- There was more good news Tuesday on Barbaro's recovery from a catastrophic injury to his right hind leg.
"He's actually better today than he was even yesterday and he was pretty good yesterday," Dr. Dean Richardson said. "He's walking very well on the limb, absolutely normal vital signs. He's doing very well."
Barbaro was on his feet in his stall, even scratching his left ear with his left hind leg just two days after Richardson and a team of assistants spent more than five hours pinning together the leg bones he shattered in the Preakness Stakes on Saturday.
The surgery was performed at the George D. Widener Hospital for Large Animals at the University of Pennsylvania's New Bolton Center.
Notable Injuries
Some notable horses who have been injured in major races:
Barbaro, 2006 Preakness (survived)
Charismatic, 1999 Belmont (survived)
Union City, 1993 Preakness
Prairie Bayou, 1993 Belmont
Go For Wand, 1990 Breeders' Cup Distaff
Mr. Nickerson, 1990 Breeders' Cup Sprint
Shaker Knit, 1990 Breeders' Cup Sprint
Timely Writer, 1982 Jockey Club Gold Cup
Ruffian, 1975 match race vs. Foolish Pleasure
Black Hills, 1959 Belmont
Source: The Associated Press
"We've run the gamut of emotions from the euphoria of the Kentucky Derby to the devastation of the Preakness," owner Roy Jackson said. "The sad part is that -- in Barbaro's case -- that the American public won't get a chance to see him continue his racing career. Even though he ran so well in the Kentucky Derby, we probably didn't see his greatest race. But that's water over the dam. We're just glad we jumped a hurdle here so far."
Richardson added that the Jacksons' main concern was for the health of Barbaro, not for the millions of dollars the colt could make as a stallion if he recovers completely.
"If this horse were a gelding, these owners would have done everything to save this horse's life," Richardson said. "I've known the Jacksons a long time. If this horse had no reproductive value, they would have saved his life."
Gretchen Jackson added: "My hope for him is that he lives a painless life. Whether that means he'll be a stallion with little Barbaros, that would be the extreme hope for him."
Signs expressing prayers and well wishes left by caring fans lined fences to the entrance of the New Bolton Center. "We love you, Barbaro." "Believe in Miracles." "Beat the Odds." Some signs were adorned with pictures of the horse. Others were signed by families who filed out of their cars to add a token of support at the makeshift tribute.
The strapping 3-year-old colt has been a perfect patient from the start. With a fiberglass cast on his right hind leg and a staff of veterinarians keeping 24-hour watch, standing around is the best thing -- the only thing -- Barbaro can do.
Despite the good initial reports, doctors guardedly have given Barbaro a 50-50 chance for survival. There's still concern about infection, including laminitis -- an often-fatal disease sometimes brought on by uneven weight balance.
The colt, accustomed to strong early morning gallops at the Fair Hill Training Center in Elkton, Md., is far, far removed from that routine. His daily regimen now consists of trying to stand comfortably and keeping his weight evenly distributed. It may take weeks, even months before Barbaro is able to do more.
Barbaro was the odds-on favorite to remain undefeated and win the Preakness to set up a Triple Crown try in the Belmont Stakes. But a few hundred yards out of the starting gate, he took a bad step, his leg flared out grotesquely and he veered sideways before jockey Edgar Prado pulled the powerful colt to a halt.
Later that night, he was taken to New Bolton. Surgery lasted most of the afternoon on Sunday.
Barbaro sustained a broken cannon bone above the ankle, a broken sesamoid bone behind the ankle and a broken long pastern bone below the ankle. The fetlock joint -- the ankle -- was dislocated.
Richardson said the pastern bone was shattered in "20-plus pieces."
The bones were put in place to fuse the joint by inserting a plate and 27 screws to repair damage so severe that most horses wouldn't have survived it.
Horses often are euthanized after serious leg injuries because circulation problems and deadly diseases can arise if they are unable to distribute weight on all fours. Also, money is a factor.
For extensive surgery and recovery, it could cost "tens of thousands of dollars," Richardson said. Many owners choose against trying to save a horse with a serious injury. But in Barbaro's case, the well-to-do Jacksons made it clear they are more concerned with Barbaro's recovery.