Senate Passes Immigration Bill on Party Lines
Senate Passes Immigration Bill on Party Lines
The Senate has passed the most sweeping revision of the nation's immigration laws in two decades. The vote was 62 to 36; most of the ayes came from Democratic senators, who were joined by a minority of the ruling Republicans.
While the bill's passage was expected, far more uncertain is its fate in upcoming negotiations with the House, which has passed a far more restrictive bill. The conference committee that will iron out the differences will likely meet in June.
Congress Split over Immigration Revamp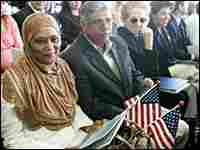 After weeks of emotional and often divisive debate, the Senate has approved the biggest overhaul of U.S. immigration policy in two decades.
But the battle isn't over: Senators face a difficult negotiation process with their counterparts in the House, who've taken a sharply different approach to immigration. The Senate legislation calls for tighter border security but also provides a path to citizenship for millions of illegal immigrants living in the United States. In contrast, the bill passed by the House in December focuses exclusively on border security and enforcement.
Below, a comparison of the two bills:
BORDER FENCING
House: Calls for the construction of reinforced fencing of at least two layers along 700 miles of the 2,000-mile U.S. border with Mexico. That's equivalent to the distance from Atlanta to Chicago. The fence would run across parts of California, Arizona, New Mexico and Texas.
Senate: Calls for the construction of about 370 miles of reinforced, triple-layer border fencing. Also adds 500 miles of vehicle barriers along the southern U.S. border.
GUEST-WORKER PROGRAM
House: Has no provisions for a guest-worker program.
Senate: Allows up to 200,000 foreign workers to apply for U.S. guest-worker permits each year. Guest workers would receive an initial three-year visa, with the ability to extend the visa once for another three-year period. After four years, foreign workers would be able to apply for permanent U.S. residence.
WORKPLACE ENFORCEMENT
House: Requires employers to use an electronic verification system to screen employees' Social Security and foreign identification numbers with the Department of Homeland Security. Requires the system to be in place within three to six years. Imposes fines of up to $40,000 on those who hire undocumented workers.
Senate: Also requires employers to screen all new hires against an electronic verification system. Mandates that the system be in use 18 months after Congress funds it, and that workers' information be submitted within three days of their hire. Fines employers up to $20,000 for each illegal immigrant they hire. Authorizes hiring 10,000 agents to enforce workplace rules.
CRIMINAL PENALTIES FOR ILLEGAL STATUS
House: Makes it a felony to live illegally in the United States. Also mandates criminal penalties for those who help illegal immigrants enter or stay in the country. Requires new immigrants to clear background checks for prior criminal records, links to terrorism and prior use of fraudulent documents before they are granted legal status. Allows deportation of any illegal immigrant convicted of driving under the influence.
Senate: Makes it a criminal misdemeanor to have entered the country illegally; however, those who have overstayed their visas are not subject to misdemeanor charges. Mandates penalties for smuggling illegal immigrants, but allows for exceptions for those who offer "humanitarian" aid to undocumented aliens. Provides for immediate deportation of immigrants -- legal or illegal -- who are convicted of a felony or of three misdemeanors unrelated to their residency status. Permanently bars those convicted from applying to the guest-worker program or other paths to U.S. citizenship. Allows immigrants facing court-ordered deportation because of immigration-related violations the chance to appeal.
PATHS TO LEGALIZATION (EARNED ADJUSTMENT OF STATUS)
House: Makes no provisions for illegal immigrants to gain legal status.
Senate: Classifies illegal immigrants into three groups:
-- Those in the United States for less than two years would be deported.
-- Those in the U.S. between two and five years would need to register with the Department of Homeland Security, leave the country and return through a port of entry before applying for legal status. They would eligible for U.S. citizenship in about 13 to 15 years.
-- Those in the U.S. longer than five years would be allowed to stay in the United States while they apply for legal status. This last group would need to work in the country six more years, pay back taxes, learn English and U.S. civics, pass a background check and pay a fine.
Makes farmworkers eligible for legal status, provided they can prove they've been working in agriculture for at least 863 hours or 150 work days during the 24-month period ending Dec. 31, 2005. Over the next five years, up to 1.5 million farmworkers would be eligible for legalization under this provision.
GREEN CARDS
House: Does not address "green cards," which give immigrants legal permanent residency.
Senate: Caps the number of green cards available to immigrants and their family members each year at 690,000. That figure does not include the farmworkers and undocumented aliens who would be eligible for legalization under the "earned adjustment of status" provisions of the bill.