Swell Books for Summer Loafing
Swell Books for Summer Loafing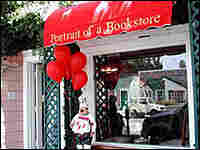 "I lean and loafe at my ease," poet Walt Whitman wrote, "observing a spear of summer grass." But when you get tired of watching the grass grow, you might want to pick up a good book.
Suggestions from three independent booksellers follow. Their tastes range from "flawless" short stories, to novels about love and late-life epiphanies, to elegiac nonfiction about baseball. Read on for their endorsements.
Lucia Silva, Portrait of a Bookstore
Lucia Silva is the book buyer at Portrait of a Bookstore in Los Angeles, Calif.
Rona Brinlee, The Bookmark
Recommendations from a store by the sea, The Bookmark in Atlantic Beach, Fla. Rona offers two bonus suggestions here, not heard on the radio.
Matt Tannenbaum, The Bookstore
Matt Tannenbaum has owned The Bookstore, which is in Lenox, Mass., since 1976.
Previous Bookseller Chats