Drinking to Soccer, from Coast to Coast
Drinking to Soccer, from Coast to Coast
NPR's Robert Smith hangs out in German bars in Manhattan, where they're drinking beer for lunch in anticipation of the opening World Cup match in Munich between Germany and Costa Rica. And NPR's Mandalit del Barco hangs out in Latino bars in Los Angeles, where they're drinking beer for breakfast.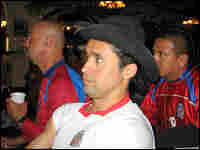 MELISSA BLOCK, host:
Soccer fans in the United States will be spending the next month in soccer heaven. The U.S. doesn't play its first game until Monday. It's against the Czech Republic. We sent two of our reporters out this morning to see what was going on during today's first World Cup match.
(Soundbite of crowd noise)
ROBERT SMITH reporting:
I'm Robert Smith in New York City, at the Zum Schneider Bavarian Beer Hall in the East Village. Soccer makes people do crazy things. For instance, we have German ex pats here who have been drinking beer for breakfast and eating this weird, white sausage.
Unidentified Man: Weisswurst and blitzen.
SMITH: What's that?
Unidentified Man: I don't know what it's made of, but it tastes amazing. It reminds me of back home.
(Soundbite of singing)
This is Mandalit del Barco at the Casa de Fernando in a strip mall in Anaheim, not far from Disneyland. The Costa Ricans were here cheering for their team before breakfast.
(Soundbite of cheering)
DEL BARCO: David Calderone is a manager and singer here at Casa de Fernando. He explained that the Costa Ricans are known as (unintelligible).
Mr. DAVID CALDERONE (Manager, Casa de Fernando): We go big. Grande. Grande. Big. Small. Small.
(Speaking foreign language)
So we add a little (unintelligible) at the end. So it just came about that they called us Ticos. You know, any little thing, we add the tico at the end.
DEL BARCO: It's a diminutive.
(Soundbite of cheering)
SMITH: In the sixth minute of the game, Germany scores and the German ex pats here in New York go nuts. Then they start singing this song -
(Soundbite of singing)
SMITH: I'm standing here next to Norbert Kraus. What do the words of the song mean?
Mr. NORBERT KRAUS (German Soccer Fan): It goes for relaxation and being friends.
SMITH: But it sounds so competitive.
Mr. KRAUSE: It might sound to a foreigner competitive, but for a German it's completely different.
(Soundbite of chanting)
BARCO: There was pandemonium here when the Costa Ricans scored a goal. They went crazy and started chanting Ci se puede, can be done, the old United Farmworkers' rallying cry.
Mr. JONATHAN AVILA (Costa Rican Soccer Fan): It shows our feeling that we have faith in our team. They're not just only representing (unintelligible), but they're representing our culture and what we stand for.
BARCO: What's your name?
Mr. AVILA: Jonathan Avila.
SMITH: Here in New York, the German fans are getting pretty excited. There's only a few seconds left in the game.
(Soundbite of cheering)
SMITH: It's getting way too loud in there. I need to come outside. The amazing thing about this is these fans will be back here tomorrow, the day after. There's an entire month of this. Volker Dietering, a webmaster and event planner, says four years ago during the World Cup, he didn't get anything done.
Mr. VOLKER DIETERING (German Soccer Fan): You think until the first game you can find some kind of strategy, but then the virus hits you and it's like having a flu that lasts for four weeks.
SMITH: As everyone here says, there's plenty of time for sleeping and working after the World Cup finals in July. Outside the Zum Schneider Beer Garden in New York City, I'm Robert Smith.
DEL BARCO: Back here in Anaheim, despite the final score, Raphael Chincia(ph) said the Ticos played a good game, better than he thought they would.
Mr. RAPHAEL CHINCIA (Costa Rican Soccer Fan): We're playing great. Costa Rica's going to keep going.
DEL BARCO: And the other Latin American teams?
Mr. CHINCIA: Oh well, let's talk about Ecuador. Let's talk about Mexico. Mexico has a great team, too.
DEL BARCO: Brazil?
Mr. CHINCIA: Oh, that's the best. Brazil. Right? Great.
DEL BARCO: Well, these Latin American immigrants say they're looking forward to the rest of the World Cup.
Reporting from the Casa de Fernando in Anaheim, California, what might be the only Costa Rican nightclub restaurant in all of the United States, this is Mandalit del Barco, NPR News.
NPR transcripts are created on a rush deadline by Verb8tm, Inc., an NPR contractor, and produced using a proprietary transcription process developed with NPR. This text may not be in its final form and may be updated or revised in the future. Accuracy and availability may vary. The authoritative record of NPR's programming is the audio record.