15-Nation Poll Suggests U.S. Image Is Slipping
15-Nation Poll Suggests U.S. Image Is Slipping
America's image continues to slip around the world, even as its allies share concerns about Iran and Hamas, according to the Pew Research Center's annual global survey of 15 nations.
The poll finds that the war in Iraq continues to be widely unpopular. Even the broader effort described as the war on terrorism is supported by majorities of only two of the countries surveyed, India and Russia.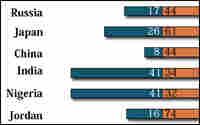 Read the Full Results
Andrew Kohut, director of the Pew Research Center for the People and the Press, talks to Robert Siegel about the latest survey results.