The Original Charlotte, Caught in an Amber Web?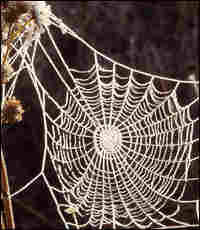 A note from NPR's science desk about what appears to be the oldest fossil of an "orb web" spider. David Malakoff tells and shows:
Orbs are those distinctive circular spider webs you see glinting in the sun. They are also the elegant natural art spun by Charlotte, the philosopher arachnid of E.B. White's classic story Charlotte's Web.
Two researchers now say they've found one of Charlotte's ancient ancestors trapped in a bit of fossilized tree sap in Spain. The tiny creature was probably living on some kind of pine tree 115 million to 121 million years ago when it became entombed in the sap. Over time, the sap fossilized into a kind of clear yellow gemstone (nice example of a different spider caught in amber here). Think of it as a crystal ball that shows you the past, not the future.
In the current issue of Biology Letters, fossil spider experts David Penney (University of Manchester, England) and Vicente Ortuno (University of Alcala, Spain) say it's the oldest orb weaver ever found — confirming that this diabolical method of catching food dates back a long time indeed.
— David Malakoff
A new movie version of Charlotte's Web is coming out this year, with the speaking voice of Charlotte A. Cavatica provided by Julia Roberts. She'll be fine, but I'll always prefer E.B. White's reading of Charlotte's musings. He recorded his book himself and it's wonderful.