'Viva': Diego Urcola and His Dream Band
'Viva': Diego Urcola and His Dream Band
Three years after his Grammy-nominated debut, Buenos Aires-born jazz trumpeter Diego Urcola's new CD Viva features what Urcola calls his dream band: pianist Edward Simon, bass player Avishai Cohen, drummer Antonio Sanchez and percussionist Pernell Saturnino, along with guests Paquito D'Rivera, Jimmy Heath and others.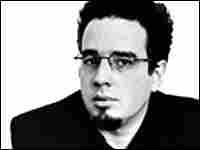 LIANE HANSEN, host:
Music from Argentina to most people means the tango, a rhythmic, passionate set of steps danced to the music of a bandoneon. Argentinean trumpeter Diego Urcola now lives in New York City. His new CD begins with his composition Tango Azul. But when you listen to it, the sounds of the streets of Buenos Aires seem far away.
(Soundbite of Tango Azul)
HANSEN: The wilting sway and syncopation of the bass line give only the most subtle hints that this is indeed a tango. There's a little flavor or Argentina, but this is New York City jazz played by some of the finest players in the Northeast.
Diego Urcola joins us now from our New York bureau. Welcome to the program.
Mr. DIEGO URCOLA (Trumpeter): Thank you for having me.
HANSEN: You received a Grammy nomination from a CD you put out in 2003, Sound Dances. This is a CD that was really Argentine music, the traditions, you had Argentinean players. When you went to do this project, Viva, were you looking for a different kind of sound?
Mr. URCOLA: Yes. You know, after Sound Dances it was great because it was a dream of mine to go there and record music over there with some of my old friends. But I always wanted to do a record here in New York, you know, with New York guys. And so on purpose I wanted to get a little different sound, you know. In Sound Dances I used the bandoneon. I used the acoustic guitar and I wanted this record to have more like a New York sound, you know?
(Soundbite of music)
HANSEN: You've got this - what you call your dream band here playing on this CD. I have to ask you about saxophone player Jimmy Heath, because there's a cut on here that says Blues for Jimmy. And there's a story behind that. This was - he gave you this piece as an assignment?
Mr. URCOLA: Yeah, what happened is, I was doing my Master's at City College, but, you know, I was so busy traveling that I couldn't really go to the classes, and I had a little trouble with the people who were running the program. So I had to stop. And then like in a band called the Jazz Masters, it was conducted by Slide Hampton, I met Jimmy and he told me I'm working the program, jazz program at Queens College, so if you want to finish your Master's, maybe we can work out something. And so I went to try transfer to Queens College, and Jimmy made it a lot easier for me to finish my Master's because, you know, he's a working musician, and he knows that I can't, you know, stop playing just to go to school.
So one of his first assignments, you know, in an arranging and composing class that I took with him was to write a blues, you know?
(Soundbite of music)
HANSEN: This record almost seems like a chance for you to acknowledge your teachers and also acknowledge a star musician, clarinetist sax player, Paquito D'Rivera, to thank him for giving you your big break, right?
Mr. URCOLA: Yeah, yeah. Paquito is this kind of like - he's my mentor, you know, really. I was in New York, I moved to New York in '91 and so after I think a year or like a few months, I got to play with him and - a few gigs, because Claudio Roditi, who was his trumpet player at the time, was kind of ready to move on. And he's been, you know, incredible to me, I mean as a, you know, musically I learned from him. I learned a lot how to be a great band leader. And how to, you know, help people, you know, when you can, you know?
(Soundbite of music)
HANSEN: You played a concert with Paquito D'Rivera a few years back and you wrote an arrangement for that concert of a tune which is not at all far from your musical roots. It's by the legendary Astor Piazzolla. The composition is called Adios Nonino. Why this particular cut?
Mr. URCOLA: Well, it's one of Piazzola's, you know, more famous songs and it's, there's a lot of versions of that song. But you know, I felt like, you know, this is really like a jazz version of that song. You know, it's very open and it's improvised solos. And there's a part of my solo that I play the melody and I kind of like trying to play the way Astor played the melody. I don't think it's ever been done like a trumpet player, for instance like a bandeneon player. But I'm pretty happy the way it came out, you know.
(Soundbite of Adios Nonino)
HANSEN: You began to play the trumpet when you were nine years old living in Argentina?
Mr. URCOLA: Yeah, my father was a music teacher, was a band director at the time in one of the few schools they have a big music program in Argentina. It's called the Collegio Ward. I picked out the trumpet just by chance because what they usually do, because, you know, everybody at that time, they wanted to play either trumpet or, you know, saxophone. You know, they need to have other, the other instruments. So what they use to do is like a lottery, or a draft, you know, so they put the names of the instruments in the bag and you will go and pick up a piece of paper. Whatever you get is what you play.
And I was lucky enough to get the trumpet. Maybe I would be a cello player. I don't know.
(Soundbite of music)
HANSEN: There's another generation represented on this CD. Your daughter makes her recording makes her recording debut. It's in the composition, Amelia. How old is she?
Mr. URCOLA: She's like 21 months now. She's going to be two in September, yeah.
HANSEN: So she's adding her own percussive effects in the background?
Mr. URCOLA: Yeah, yeah, well, I, one of my heroes, one of my favorite musicians, Egberto Gismonti, also Hermeto Pasqual, and they have a lot of their music, they use the human voice in all different kind of ways, you know. As backgrounds, or you know, also singing and, you know, they use sounds of children and animals and those kind of stuff. I'm always, you know, I'm not afraid of that. You know, and I wrote this tune for Amelia, you know, after she was born. When I finished the tune, I said there is something missing here, you know. The tune is great but there is something missing and then I realized that it was her, you know?
(Soundbite of music)
HANSEN: Do you think she has a career in music?
Mr. URCOLA: I don't know. I mean she sounds pretty good on that track, you know.
(Soundbite of laugh)
HANSEN: You know, we carefully arranged this interview so it would not interfere with the World Cup, and particularly Argentina's appearance in the World Cup. And I know you're a big fan. You're glued to the coverage, I imagine.
Mr. URCOLA: Yeah, it's unbelievable. I mean Argentina is playing great and for us it's very important because in the last World Cup, we didn't do too good. We didn't make it to the second round so we got a really tough group. And let's see what happens, because now they're like, you know, playoff games. So if you have a couple mistakes, you know, you play bad, and that's it, you go home, you know? But that's the exciting thing about it, you know?
HANSEN: Yeah. Well, good luck to the team.
Mr. URCOLA: Oh, thank you.
HANSEN: Diego Urcola. His new CD Viva is on CamJazz/Sunnyside Records and he joined us from our New York bureau. Thanks very much.
Mr. URCOLA: Thank you for having me.
HANSEN: I feel like I want to go, Goal!
Mr. URCOLA: Goal! Argentino!
HANSEN: And in case you missed it, Argentina beat Mexico 2-1 in overtime yesterday. They advanced to the quarter-finals and will play Germany in Berlin on Friday.
NPR transcripts are created on a rush deadline by Verb8tm, Inc., an NPR contractor, and produced using a proprietary transcription process developed with NPR. This text may not be in its final form and may be updated or revised in the future. Accuracy and availability may vary. The authoritative record of NPR's programming is the audio record.