Arif Mardin, a Smooth Music Visionary
The legendary music producer Arif Mardin, has died. In a long and varied career, Mardin worked with performers ranging from Aretha Franklin to the Bee Gees, and from Chaka Khan to Norah Jones.
In a fickle business where hits and hit-makers come and go like the seasons, Arif Mardin was a rarity: a music producer who kept churning out chart-topping songs for more than four decades.
Mardin's streak began in 1966 with his first hit, "Good Lovin'" by the Rascals.
Born in Turkey, Mardin came to the United States to study music. With Atlantic Records and later EMI, his career was distinguished for its longevity, variety and its success — even in his later years.
Mardin died Sunday. He was suffering from pancreatic cancer.
Arif Mardin: Tales from the Recording Studio
Legendary music producer Arif Mardin talks about his four-decade career. He's produced albums for artists such as the Bee Gees, Phil Collins, Bette Midler, Dusty Springfield, and more recently, Norah Jones.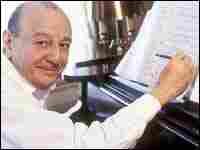 The 12-time Grammy winner tells tales from recording sessions with Aretha Franklin and Chaka Khan.