Nathaniel Hawthorne, Family Reunited in Grave
Nathaniel Hawthorne, Family Reunited in Grave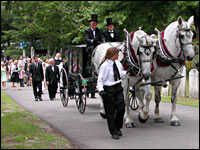 The remains of the wife and daughter of 19th-century author Nathaniel Hawthorne have been removed from their graves in England and re-interred alongside his grave in Concord, Mass. Although burials are usually a time to say goodbye, this felt to many like a welcome home.
Hawthorne's wife, Sophia, and their daughter, Una, both died in England in the 1870s and were buried there. But recently, a Hawthorne tree planted next to their graves fell over, damaging Una's headstone. Hawthorne's descendants decided it was time to bring them home.
On Monday, a horse-drawn carriage cradling their remains retraced the path of Nathaniel Hawthorne's funeral procession 142 years ago. More than three dozen family members followed on foot. Then Hawthorne's great-great granddaughter, Alison Hawthorne Deming, addressed a crowd of about 300.
"I was startled to realize that seven generations of our family are present at Sleepy Hollow Cemetery today, counting those above and below ground," Deming said, eliciting laughter from the crowd.
Joan Ensor, 93, is the Hawthornes' great-granddaughter.
"We knew as we grew up that Nathaniel and Sophia Hawthorne had an eternal love affair," she says. "It was part of the family history, the family lore."
When Sophia Peabody met Nathaniel Hawthorne, she was an artist. Sophia's biographer, Megan Marshall, says she even exhibited at the Boston Athenaeum -- which was rare for a woman.
"But she never fully realized this talent, in part because of her own conflicts about pursuing a career as an artist, or pursuing a career at all," Marshall says.
Sophia had a dream of making a life with another artist. That began to take shape after her sister Elizabeth invited Nathaniel and his sisters to visit. Sophia was 28.
Marshall recounts the story: "Elizabeth was so struck by his good looks that she ran upstairs to Sophia and said, You must come down! You must come down! He's handsomer then Lord Byron!' And Sophia said, 'If he has come once, he'll come again.'"
Sophia, who suffered from migraines, didn't come down to see Nathaniel for months. But when they met, it was true love. More than 100 love letters the two exchanged have survived. One from Nathaniel to his wife reads: "I love thee thou dearest. It is only when I am away from thee that the chill winds of the world make me shiver. Thou always keepest me warm and always wilt."
The couple spent 22 years together. Their last home, called the Wayside, is now a National Historic Landmark. At the top of a steep stairway, Hawthorne built a study with a view of Walden Pond. Less than two years after moving there, Nathaniel became sick, probably with cancer. In 1864 he took a carriage trip to the White Mountains.
Wayside Park Ranger Robert Derry says Hawthorne went away to die to spare his family.
"I feel very sure he knew when he left the house that he wasn't coming back," Derry says, "and I think Sophia knew as well. It was the final goodbye."
When the couple first married, Sleepy Hollow Cemetery was still rolling farmland. They took long walks there and dreamed of building a house on the very ridge top where both are now buried.