Timeline: A Half-Century of Falwell's Ministry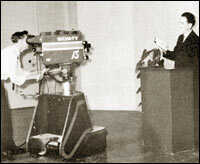 Courtesy Liberty University
Courtesy Liberty University
Falwell's Opinions
The Case Against Penthouse (Feb. 3, 1981)
Leaving the Leadership of the Moral Majority (Nov. 3, 1987)
The Jim Bakker Scandal (Nov. 23, 1987)
Personal Repercussions of the Bakker Scandal and PTL Bankruptcy (Oct. 8, 1987)
Falwell and Pat Robertson on The 700 Club Cast Blame for Sept. 11 (Sept. 13, 2001)
Falwell Compares Roy Moore to Martin Luther King Jr. (Aug. 21, 2003)
Believing church and state to be inseparable, the Rev. Jerry Falwell has had an undeniable influence in modern politics, and much of his life has seen him embroiled in controversy.
Aug. 11, 1933: Jerry Lamon Falwell is born in Lynchburg, Va.
June 1956: Shortly after graduating from Baptist Bible College in Springfield, Mo., Falwell becomes pastor of the new Thomas Road Baptist Church of Lynchburg, Va.
April 12, 1958: Falwell marries Macel Pate.
1967: Falwell creates the Lynchburg Christian Academy, a fully accredited Christian day school offering K-12 education.
1971: Falwell founds Liberty University.
1972: The SEC files charges of "fraud and deceit" against Falwell's church for the issuance of $6.5 million in uninsured bonds. The organization wins its case in 1973, but Liberty University files for bankruptcy and reorganizes, losing millions in church investors' money.
June 1979: Falwell organizes the Moral Majority, a political lobbyist group tasked with bringing Christianity to the forefront of the Republican Party platform. The group considers itself the force that elected Ronald Reagan to the presidency.
1981: Penthouse publishes a Falwell interview given to freelance reporters and Falwell files a $10 million lawsuit against the magazine, stating that the interview was sold without his consent. The case is dismissed.
1983: Falwell sues Hustler for featuring a parody of him in an advertisement. Although the jury denied compensation for his claims of libel and invasion of privacy, they awarded him damages for "emotional distress." Hustler founder Larry Flynt appealed the decision, and in 1988 the Supreme Court ruled unanimously in favor of the magazine.
1987: Televangelist Jim Bakker passes control of his PTL Ministry to Falwell after a series of financial and adultery scandals, most notably Bakker's conviction for fraud that sends him to prison for five years. Within months, PTL files for bankruptcy. Falwell and the PTL board of directors resign.
1989: Having helped the Republican Party win three presidential elections, Falwell officially disbands the Moral Majority, saying, "Our mission is accomplished."
1995: Falwell begins publishing the National Liberty Journal.
Sept. 2001: Falwell comes under fire after he blames gays, abortionists, the ACLU, and other groups for the Sept. 11 terrorist attacks. He publicly apologizes for his remarks.
2003: Alabama Supreme Court Chief Justice Roy Moore loses his seat on the bench for refusing to remove a monument to the Ten Commandments from the courthouse grounds. Falwell defends Moore's actions, comparing him to Martin Luther King Jr.
2004: Falwell founds the Moral Majority Coalition, a "21st century resurrection of the Moral Majority" and pledges to lead the organization for a minimum of four years.
2006: Relations between Falwell and Sen. John McCain (R-AZ) warm after McCain speaks at Liberty University. During a campaign speech for the 2000 presidential election urging the country to return to social moderation, McCain referred to Falwell (and others) as "agents of intolerance."
May 15, 2007: Falwell dies in Lynchburg, Va.