Visions of America's Transportation Future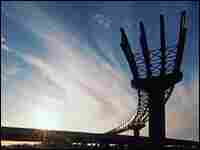 The nation's biggest public works project, the interstate highway system, was launched 50 years ago in an era of cheap gas, big tail fins and boundless confidence. Now planners are asking what the next 50 years will bring — and there are signs the system will grow to be bigger, faster and even more efficient.
Numbers are adding to the urgency. The United States has about 130 million more residents than when the highway system first broke ground, and just as many more could become residents in the next 50 years. More Americans than ever are driving longer distances to get from their homes to their jobs. And the population isn't just growing, it's also shifting to more rural areas.
In order to keep the promise the interstate system attempts to deliver — connecting Americans to the things they want and places they want go, at a cost they can afford — transportation planners are looking to Autobahn-like speeds, global positioning satellite navigation and wireless communication between cars to help relieve congestion near cities.
There are conventional solutions in the works, too, including adding more lanes to existing roads and even adding whole new interstate freeways.
Commerce is also a big factor when planners look to the future. Like railroads and canals before them, growing freeways generally boost business. For example, there's plans to extend the I-69 from Indianapolis to the Mexican border — a route dubbed the NAFTA highway because of goods coming north from Mexico.
Critics say there's too much emphasis on boosting capacity to highways. New and bigger roads, they say, only add to the problem. The solution? More bicycle lanes, more mass transit and more neighborhoods where residents can walk to jobs, markets and entertainment.