Demonstrators Support Charged Marines
Demonstrators Support Charged Marines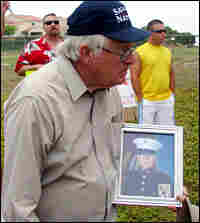 The preliminary hearing for eight servicemen charged with killing an unarmed Iraqi in Hamdania has been postponed for several weeks.
Meanwhile, many U.S. civilians are voicing support for the Marines and Navy Corpsman. Some are holding weekly demonstrations outside Camp Pendleton.
For historian Michal Belknap, this has echoes of the My Lai episode, when both supporters and opponents of the Vietnam War rallied behind William Calley, for very different reasons. Calley was convicted of killing 22 civilians in the village of My Lai.
"There were very similar rallies back at the time of the Calley court martial.," Belknap says. "So it really is a sort of eerie replay of something that happened more than 30 years ago."
Joe Snodgrass' Marine grandson, Pfc. John Jodka, is one of the eight charged in the Hamdania case. Snodgrass says the public support means a lot to Jodka and his fellow prisoners.
"I bet for every one person on this line, there's a thousand people out there that, because they live in Connecticut or New York or Tupelo, Mississippi, or wherever, they can't be here. So I think there's a lot of support here," Snodgrass says.