L.A. Effort Narrows Swimming's Racial Gap
L.A. Effort Narrows Swimming's Racial Gap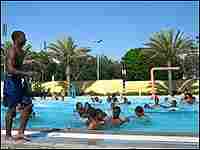 Groups at Risk
MALES: In 2003, males accounted for 80 percent of fatal drownings in the United States.
CHILDREN: In 2003, 782 children ages 0 to 14 years died from drowning. Although drowning rates have slowly declined, drowning remains the second-leading cause of injury-related death for children ages 1 to 14 years.
AFRICAN AMERICANS: Factors such as the environment (e.g., access to swimming pools) may contribute to the racial differences in drowning rates between African Americans and white Americans. During 2002–2003, the overall age-adjusted fatal drowning rate for African Americans was 1.25 times higher than for whites. The rates vary by age. Among children 1 to 4 years of age, African Americans had a lower fatal drowning rate than whites. Drownings in this age group typically happen in residential swimming pools.
African-American children ages 5 to 19 years fatally drowned at 2.3 times the rate of white children in this age group during 2002–2003. As children get older, drownings often occur in open water areas such as ponds, lakes and rivers.
Source: Federal Centers for Disease Control and Prevention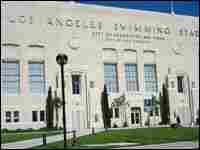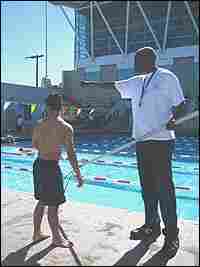 Statistics show that black children are more than twice as likely to drown than their white peers. But at the John Argue Swim Stadium in Los Angeles -- built for the 1984 Summer Olympics -- an effort is under way to teach all children how to swim.
Andre Brent oversees the pools at the stadium, located in Exposition Park, just south of downtown L.A. His job is to turn splashers into swimmers, and he's firm with youngsters who may not grasp all the dangers at hand.
"They think they're superman," he says. "And they're not."
In fact, according to the Centers for Disease Control, accidental drowning is the second-leading cause of death for children from 1-14. And black children run the highest risk of all.
To narrow the racial gap in swimming, the L.A.-based Amateur Athletic Foundation gives grants to swim facilities in Southern California.
Especially in a city full of pools, "economics should not be a barrier to learning to swim," says Patrick Escobar, the foundation's vice president.
During the school year, the foundation's grants provide money help transport children to pools for lessons. And they help public pools give low-cost or free lessons in the summer. Escobar says the foundation is providing the training for which public schools no longer have the resources.
He's also a member of USA Swimming's diversity task force. As such, he sees the foundation's initiative creating new options for children of color. Many colleges and universities -- especially in California -- offer athletic scholarships for water sports.
Kalif Muhammad, 11, learned how to swim in the Exposition Park program. Now he scuba dives and plays competitive water polo. He's also a junior lifeguard.
Programs such as the one at Exposition Park might turn out thousands-more Kalifs, reducing drownings in summers to come... and narrowing swimming's racial gap, one child at a time.
Related NPR Stories
Web Resources