Stink or Swim: Chinese Dive into Polluted River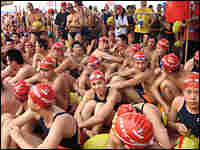 In Chinese politics, swimming is an act laden with political symbolism. Chairman Mao swam in China's rivers to prove his mastery over nature. And recently, the city of Guangzhou in southern China held a huge swimathon to showcase its clean-up of the heavily polluted Pearl River.
Legend has it that Chairman Mao once swam in the Pearl while nearby fishermen cheered him on, and a member of Mao's entourage commented on how clear the water was.
But these days, the Pearl River is a soupy green-brown color, its muddy sediment churned by passing traffic on the waterway.
And this sediment is full of toxic substances, according to Gan Zhang, a professor at the Guangzhou Institute of Geochemistry. The institute's studies confirm high levels of heavy metal concentration in the sediment, particularly of lead and cadmium.
Prof. Zhang says he won't swim in the Pearl because of what he knows about the water quality there.
Before the swimathon, last-minute clean-up measures were visible from the river's edge, where launches ply the river, and men in orange life vests snare trash.
"It's been many, many years since I've swum here," said Mr. Liu, 58. And though he admitted the water is not that clean, he didn't think it was harmful. He joined the swimmers in a scene reminiscent of a propaganda exercise from the 1960s.
As provincial leaders arrived, loud clapping and cheering erupted. More than 3,000 people set out to swim the half-mile across the river. Sewage outlets that normally flow straight into the river were blocked off for the swimathon.
At the finishing line on the other side of the river, teams made victory signs. Many were singing as they swam across the river.
"It was a tiny bit smelly," said swimmer Qiao Pin. "It's so murky you can't see your own feet."
"In my day you could drink river water while you swam," said Zhang Xueqin, 69, watching from the sidelines. The government is spending millions on all this hoopla, he said.
"Faced with widespread environmental devastation, China's local governments may be satisfied with grandiose propaganda gestures like swimathons," he said, "but it's clear their citizens now want more."
"If the river still isn't fit for swimming in three or four years," said Xueqin, "that would be unacceptable."