Plotting Strategy in the Gay-Marriage Debate: Con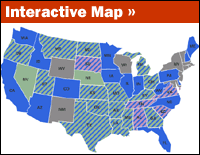 The legal battle over gay marriage continues to be fought on a state-by-state basis, with more skirmishes in recent days: In California, the 1st District Court of Appeal heard arguments about whether excluding same-sex couples from marriage violates the state constitution. The court has 90 days to issue a ruling. And Massachusetts postponed a vote on a constitutional amendment to ban same-sex unions of any kind. They'll revisit that matter after Election Day.
Last week, Weekend Edition Sunday kicked off a two-part discussion of where activists on both sides of the issue are headed from here, speaking with a supporter of same-sex marriage. This time, an opposing view: Teresa Collett is a professor at the St. Thomas University School of Law in Minneapolis. Two years ago, she testified before the Senate Judiciary Committee in support of the Federal Marriage Amendment, which defines marriage as the union of one man and one woman.