John Davis: 'Bully' for Him, Books for You
John Davis: 'Bully' for Him, Books for You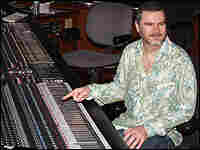 Director John Davis was nominated for an Oscar for his 2001 work Jimmy Neutron: Boy Genius. He's back with another animated film featuring a young character. Lucas Nickle is cut down to size by a star-studded cast lending their voices to a colony of creepy-crawlies in The Ant Bully. Davis tells Sheilah Kast what sort of books had him turning pages instead of watching movies when he was a boy.
John Davis' Reading List
John Davis enjoyed reading when he was growing up. He has some suggestions for the younger set:
All of the Dr. Seuss books.
Seven Chinese Brothers
Harold and the Purple Crayon
And as he got older, he says he really enjoyed Robert Heinlein's science fiction books:
Star Beast
Glory Road
Stranger in a Strange Land
Books Featured In This Story
Purchase Featured Book
Buy Featured Book
Title

Star Beast

Author

Robert A. Heinlein
Your purchase helps support NPR programming. How?