'Considering Genius' Examines Depth of Jazz Musicians
Jazz writer Stanley Crouch talks about his new book, Considering Genius: Writings on Jazz. The book focuses on race, politics, democracy and human nature as they pertain to great musicians.
Crouch is a columnist, novelist, and essayist and co-founder of Jazz at Lincoln Center.
Excerpt: 'Considering Genius: Writings on Jazz'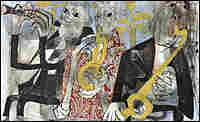 In 1987, Alina Bloomgarden, director of Visitor's Services at Lincoln Center, [Wynton] Marsalis, and I met because Bloomgarden wanted to start a series of summer concerts at Lincoln Center. Bloomgarden had done volunteer work at Barry Harris's Jazz Cultural Theater and was inspired by what she saw. This enthusiasm pushed her to meet with Nathan Leventhal, the president of Lincoln Center. At Bloomgarden's urging, Leventhal agreed to set aside the budget necessary to produce the summer series of jazz concerts.
Those concerts were so successful that they eventually grew into the department known as Jazz at Lincoln Center. That did not come out of nowhere. The suave Gordon Davis, a lawyer who had been a city commissioner and was then on the board of Lincoln Center, had the bright idea that the jazz series could — and should — become something much bigger than an annual summer event. From there, things began to build to the unprecedented point that the jazz program became a fully equal constituent with the other components of Lincoln Center—the New York Philharmonic, the Metropolitan Opera, New York City Ballet, and the Film Society of Lincoln Center. The air up there was very thin and the lungs of a program could give out if it wasn't ready. But Jazz at Lincoln Center made it.
The next step was to have a hall built that would, to Marsalis's specifications, be the first designed with the sound of jazz in mind. This had been a dream of his after playing the great opera halls in Europe, where the sound was superior to any concert halls he had played in America. What if an architect could be found who would design a performance space for jazz that was on the level of an opera house? Though it seemed barely possible, it was the right time to hold onto that high-minded dream. The old New York Coliseum in Columbus Circle was to be torn down and that real estate became the most competed for in the city. Licked chops were flying everywhere, and we had to see if we could get jazz up in there.
Rudolph Giuliani was in charge of it all, but Jazz at Lincoln Center got no response to its proposal for a hall or even a return of a single phone call. The word was that Giuliani wanted another opera house built in Columbus Circle. So Rudy did not seem interested. But there was a man in the mix who had been on a task force appointed by Giuliani to investigate police and community relations in the wake of a scandalous example of sadistic police force in Brooklyn. I had gotten along with Giuliani while on that task force, so I called his office and set up an appointment to talk with him. His press liaison was Christine Lategano, who sat in on the meeting.
Giuliani and I began by tossing around jokes about his thinning hair, his son, the Yankees, and the politicians in Albany who were always trying to give New York so much less than it deserved. After some laughs, he paused, as if to say, "You're on." I then said to him that the concerts, lectures, and film presentations of Jazz at Lincoln Center formed an innovation in American culture. He replied by saying that he thought Wynton Marsalis was doing a marvelous job in every way. I couldn't think of anything else to prepare the pitch, so I just went straight for it. I said that if Jazz at Lincoln Center got a space to build a hall in Columbus Circle, New York would have the very first place in the entire world that was built specifically for jazz. It would be an innovation in world culture. Giuliani leaned back in his chair, looked around, then sat forward with a hard twinkle in his eye. "It would also be one of my legacies to the city of New York, wouldn't it?" "Of course," I responded. The mayor then told Christine Lategano to call in the guy who had the plans from Lincoln Center. It was on.
Since 1987, what began with three people meeting to discuss putting on annual summer jazz concerts at Lincoln Center has grown far beyond what any one of us would have thought possible. Jazz at Lincoln Center has produced over 850 original concerts in the New York City area. It has produced over thirty-five tours featuring the Lincoln Center Jazz Orchestra, the Afro-Latin Jazz Orchestra, and other ensembles that have reached over three hundred cities in thirty-five countries on five continents. It has featured over 850 musicians; commissioned compositions and arrangements by over forty musicians; sent over fifty thousand copies of sixty previously unavailable Duke Ellington scores to over thirty-five hundred schools through the Essentially Ellington High School Jazz Band Competition and Festival; produced educational programs that have reached over five hundred thousand students, educators, and members of the general public; and produced more than 160 hours of the Peabody Award-winning Jazz From Lincoln Center radio program, hosted by Ed Bradley and broadcasted nationwide. The Lincoln Center Jazz Orchestra has collaborated on concerts with more than a dozen symphony orchestras around the world as well as a flamenco dance company and an African drum and dance ensemble. Beyond that, Jazz at Lincoln Center has collaborated in productions with more than forty arts organizations, music programs, and centers for the performing arts. I am more proud to have been involved with it than anything I have given my support to since my volunteer efforts for those in Los Angeles who were working to sustain the civil rights movement more than forty years ago.
Throughout everything that I have done in Manhattan since 1975, much of which falls outside of music, I have maintained my love for the unsurpassed variety of that inimitable sound, and have continued to evolve an ever-deeper feeling for what distinguishes it and how jazz became the uniquely great art form that it continues to be. This volume will take you across a wide territory of aesthetic thought, performance reviews, obituaries, battle royals, and an out-chorus in which I take the position that blues, in the swinging version we call jazz, is for today and for tomorrow and for all of us who have a need for that very special feeling of jazz, especially when it is elevated to the position of shining aesthetic order.