Drugs and Crime Plague FEMA Trailer Park Residents
Drugs and Crime Plague FEMA Trailer Park Residents
Scroll down to read Kathy Lohr's Reporter's Notebook about her experience meeting residents of FEMA trailer parks.
Thousands of people are trying to rebuild their lives after Hurricane Katrina left them homeless. The government's response to the crisis was to create FEMA trailer parks all over the Gulf Coast.
While the trailers have provided shelter, some trailer parks have become nasty places where drugs and crime are flourishing.
In the High Hills FEMA Trailer Park in Picayune, Miss., the sun beats down on about 100 white trailers packed onto a gravel lot. It's so dry that the ground is cracked. Dust flies up when vehicles drive by.
Jerrye Barre rented in the area before Katrina hit. She's lived in a trailer since February.
Barre says she's had problems from the moment she moved in -- constant exposure to her neighbors' brawling, cursing, fighting, and drug and alcohol use.
"The walls are thin. You can hear everything going on," she says.
Many are grateful to have a home, but the stress level in the parks is high. At High Hills, one man was killed this year. In Pearl River County, the location of six FEMA trailer parks, the sheriff's department reports a significant increase in crime -- from domestic violence calls to drug violations. Many say they would like to return to the Mississippi Coast, but they can't because since Hurricane Katrina, the rents have doubled or tripled and their incomes have not. They have no choice but to stay.
Bailey Moneymaker and Chuck Furst, met in the FEMA trailer park in Picayune where they currently live. Moneymaker's wife is ill and Furst, who works for Lockheed's space shuttle program in New Orleans, says a few of the neighbors try to look out for each other.
"I'll give you an example how bad the drugs are here," Furst says. "I was sitting here one night and got a knock on my door. A guy came to my door and wanted to sell me his 27-inch TV for $40. I said, 'No, thank you…' Ten minutes later, he was back. Wanted to sell me his DVD for $40. I said, 'I got a DVD, no thanks.' About ten minutes later he came back for a third time. He said, 'Look I gotta get some drugs, gotta get a hit of crack, look -- I'll sell you my wife for $40.'"
Furst says dealers hide out when they see the cops coming. In March, the sheriff department's narcotics unit arrested more than 30 people on drug charges, but they say it takes months of undercover work to set up that kind of operation. Now all but two of those arrested are out on bond and back in their trailers.
The law-abiding residents of the Mississippi Gulf trailer parks say they realize that by handing out vouchers and trailers after Katrina, the government was trying to get help to as many people as possible. But next time, they say, someone needs to come up with a better plan to weed out the troublemakers and the drug dealers who've come to live with them in these tiny packed spaces.
FEMAville: No Place for a Home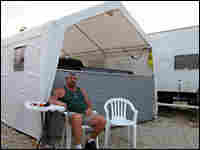 "What we're doing is tracking crackheads and dope dealers up and down the gravel streets." That's what many people displaced in Mississippi told me as they stood outside their tiny, white FEMA trailers.
I recently spent time in several of the trailer parks that FEMA set up for the Gulf Coast's Katrina victims. And they really are no place like home. Trash bags are piled up outside some trailers. Dogs tear bags open and roll in dirty diapers. Some children roam at all hours, their parents nowhere in sight. Some get into brawls. Others are kept inside by their folks to protect them.
Despite these challenging conditions, the residents are grateful for a place to stay. Nonetheless, they feel trapped. They can't go back to the Mississippi or Louisiana coast they came from -- at least not yet.
"I just take it a day at a time," says Leo Blalock, who's been a carpenter since 1972 and still works every day building new homes. But he has only a temporary home in the High Hills trailer park in Picayune, Miss. The two-bedroom apartment that he and his wife once rented in Waveland, Miss., cost $485 a month. There's no way he can earn enough to afford the $1,200 to $1,500 rent on two-bedroom homes now available in their hometown. "It'll be another year I think before there's enough available housing that people can afford it," he says. For now, the family keeps to themselves to avoid any trouble.
Walt Rusby sits in a plastic lawn chair pondering his past, present, and future. The two-bedroom condo he rented in Slidell, La., was wiped away by Katrina. He erected a tent to shelter his pickup from the sun and dust in the Allison RV Park, but he can't do much about the crime.
"A lot of folks just sit here, take pictures [of drug deals] and call the cops," Rusby says. "It's scary for a lot of folks who live here."
A big drug bust back in March hasn't helped much, according to Rusby and some of the others who live here.
"You see a couple of them disappear for a few days, a week but they're right back again," Rusby says. It's just a revolving door." He understands all too well that the local sheriff's department is short on manpower – that they have too many FEMA trailer parks and the rest of the county to patrol.
Children add to the tension. As it turns dark, teenagers and even younger kids begin to wander through the park. Two boys, maybe 12 or so, begin to fight. They shout profanities. So do a couple of parents, who egg them on. Then one boy quits and hightails it inside.
"You got kids left here all hours of the night," says Chuck Furst, who lives in a trailer just across from the scene of the fight. "The parents aren't home. They are left alone. Nobody checks on them." Furst travels about 40 miles each way from the trailer park in Mississippi to east New Orleans every day to his job at Lockheed Martin, where he works on the space shuttle.
Furst blames FEMA for some of the trailer-park problems. He points to a trailer just three spaces down with a huge dent in one side.
"Somebody hit that one night doing about 70," he says. "They knocked it off the blocks and that was two weeks ago, maybe three. FEMA hasn't done a thing about that."
As strange as it seems, park residents are nostalgic for the old days, before the parks were full. Private security guards stood outside the trailer parks, which were then a quieter place to stay. But the early residents found out that the guards were stationed there only to protect empty trailers. Once the trailers were all occupied, the guards moved out, leaving the residents of the FEMAvilles to fend for themselves.