The Best Way to Drop Propaganda Leaflets
The Best Way to Drop Propaganda Leaflets
Israeli planes are dropping leaflets onto Beirut bearing anti-Hezbollah messages and warning residents to avoid Hezbollah facilities or gathering places, for their own safety. Slate senior editor Andy Bowers discusses whether the best way to use propaganda.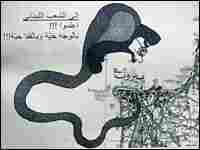 More at Slate.com
NOAH ADAMS, host:
Israeli aircraft have dropped thousands of pink and yellow propaganda leaflets into Lebanon over the past week. One shows the leader of Hezbollah as a cobra dancing to music played by the rulers of Iran and Syria.
Whether or not leaflets are effective, they're a long-standing propaganda tool. And that got the explainer team at the online magazine, Slate, wondering how the drops actually work.
Here is Slate's Andy Bowers.
Mr. ANDY BOWERS (Senior Editor, Slate): Easy. Use a leaflet bomb. Captain James Monroe invented the American propaganda bomb during World War II. Thousands of pieces of paper were stuffed into a laminated paper cylinder with a detonator and a delay and then loaded into a B-17. The Monroe bomb exploded on the way down sprinkling leaflets over enemy territory from a low altitude.
The Air Force quickly developed more advanced versions of the same idea. For many years, their standard leaflet bomb was the M-129, a fiberglass case that holds up to 80,000 flyers. Research continues on better methods, since the bomb's small explosive does tend to burn up some of the leaflets.
The leaflet bomb reduces the effects of wind, which can easily blow leaflets away from their intended target. This problem was more acute during World War I, when many pilots made both military and air show leaflet drops by hand. Charles Lindbergh had his mother toss notices from the cockpit of his plane.
All those loose papers flying around the cockpit, though, could get dangerous. By the 1940s, pilots had devised a safer system. First, the filled cardboard boxes with flyers then attached the lids of the boxes to the plane with a cable. The boxes would fall from the plane in one piece until the cable went taut. The lid would then pop off, releasing the leaflets at a safe distance from the plane.
The cheap and effective cardboard box method still works well. In the past few years, the United States has used tethered boxes to distribute millions of propaganda leaflets from low-flying planes over Iraq and Afghanistan.
In general, propaganda droppers use leaflet bombs when they need to fly at a safe, high altitude. If they can fly low, they use the cardboard box technique.
ADAMS: Andy Bowers is a Slate senior editor. That explainer was compiled by Daniel Engber.
NPR transcripts are created on a rush deadline by Verb8tm, Inc., an NPR contractor, and produced using a proprietary transcription process developed with NPR. This text may not be in its final form and may be updated or revised in the future. Accuracy and availability may vary. The authoritative record of NPR's programming is the audio record.
More Andy Bowers Explainers