Israel Opens Door for International Peace Force
Israel Opens Door for International Peace Force
Israeli officials say they are prepared to back the deployment of a temporary international force in southern Lebanon to disarm Hezbollah. The shift in policy comes amid pressure from European countries and ahead of a visit by Secretary of State Condoleezza Rice to the region.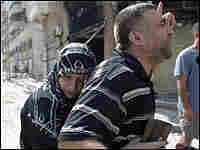 DEBBIE ELLIOTT, host:
And now to NPR's Linda Gradstein in Jerusalem. She reports, until now Israel has insisted the Lebanese army disarm Hezbollah. Today it signaled a policy shift.
LINDA GRADSTEIN reporting:
At a news conference in Jerusalem, Israeli foreign minister Tzipi Livni said Israel wants to support the Lebanese government in its efforts to enforce its sovereignty in south Lebanon.
Mr. TZIPI LIVNI (Foreign Minister, Israel): We believe that there is possibility - is of the Lebanese government, but we can support from ideas of effective forces that will help the Lebanese government in order to dismantle Hezbollah, to take them out of the south of Lebanon and to prevent re-armament of Hezbollah in the future.
GRADSTEIN: Foreign minister Livni spoke after meeting with ministers from Germany, France and Britain ahead of Secretary Rice's visit to the region tomorrow.
She didn't give a detailed proposal for international peacekeepers but a statement from defense minister Amir Peretz's office, said it could be a NATO-led force.
European countries have been far more critical of Israeli's offensive in Lebanon than the United States. Washington clearly blames Hezbollah for the crisis, which began when Hezbollah captured two Israeli soldiers 12 days ago in a cross-border raid.
Lebanese parliament speaker Nabih Beri(ph) today told CNN that Hezbollah has agreed to allow the Lebanese government to lead negotiations over a prisoner exchange for Arabs in Israeli jails.
Israeli prime minister Ehud Olmert said he viewed the Lebanese government as a partner for future dialogue.
Still, there is no sign that the Israeli offensive will end any time soon. Israeli troops are controlling a Lebanese village Israel says Hezbollah used as a launching area for Katyusha rockets at northern Israel.
Hezbollah fired more Katyushas today, with dozens landing in northern Israel. Two Israeli civilians were killed today in Israel's third largest city of Haifa.
Despite heavy Israeli bombardment of Hezbollah's weapons stores in southern Lebanon, the barrages of cartouches show no sign of ending.
At the news conference, Foreign Minister Livni said much of Hezbollah's weaponry comes from Syria.
Mr. LIVNI: There is an axis of terror, hatred and extremism which Hezbollah is part and it is including Hezbollah, Syria, Iran and Hamas. And there's a need to put international pressure also on Syria to stop arming Hezbollah, to stop helping Hezbollah...
GRADSTEIN: At the same time, Livni said, Israel is not interested in a conflict with Syria.
Linda Gradstein, NPR News, Jerusalem.
NPR transcripts are created on a rush deadline by Verb8tm, Inc., an NPR contractor, and produced using a proprietary transcription process developed with NPR. This text may not be in its final form and may be updated or revised in the future. Accuracy and availability may vary. The authoritative record of NPR's programming is the audio record.