Rice Visits Lebanon, Israel as Fighting Continues
Mike Shuster Reports on Rice's Visit
UN: 700,000 Need Aid in Lebanon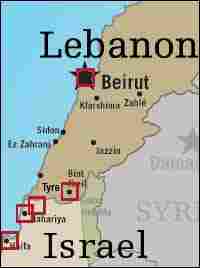 U.S. Secretary of State Condoleezza Rice paid a surprise visit to Beirut on Monday, where she said she was concerned about the Lebanese people but did not agree to calls for an immediate cease-fire between Israel and Hezbollah. She later headed to Israel, where she dined with Israeli Foreign Minister Tzipi Livni.
Rice is the most senior U.S. official to visit the region since the fighting broke out between Israel and Hezbollah 13 days ago.
Rice began the day's diplomatic shuttling on a helicopter from Cyprus to Beirut. She then traveled under heavy guard in a motorcade to the office of Lebanese Prime Minister Fuad Saniora.
NPR's diplomatic correspondent Mike Shuster says Rice spent about five hours in Beirut. He reports that the meetings were tense, with Saniora telling Rice the bombing has set his country "back 50 years," and calling on her to push for a swift cease-fire.
But Rice reportedly pushed back. She laid out the official U.S. position that a cease-fire would be "unenforceable" until Hezbollah pulls back from the border with Israel and allows Lebanon's army to take its place. Rice also demanded that Hezbollah release the two Israeli soldiers it has been holding since July 12.
That position was underscored in Washington on Monday, when White House spokesman Tony Snow told reporters that the world should focus on confronting the destabilizing force of Hezbollah and its practice of using the Lebanese people as "human shields."
Snow added, "Although we certainly do support the idea of a cease-fire, again, it's under the conditions that are going to make it durable and sustainable."
NPR's Mike Shuster notes, "that is not the message Lebanon's leaders wanted to hear."
The United Nations and many U.S. allies have also backed an immediate cease-fire.
Rice is scheduled to meet Tuesday with Israeli Prime Minister Ehud Olmert and Palestinian President Mahmoud Abbas. She'll follow up Wednesday with discussions with European and Arab officials in Rome.
Meanwhile, nearly two weeks into the conflict, heavy fighting continues between Israel and Hezbollah militants.
Monday saw more gunfire and explosions in southern Lebanon. The Israeli army says two soldiers were killed and at least 18 were wounded, as Israeli ground forces pushed deeper into villages just across the border.
NPR's Eric Westervelt reports that there are now more than 3,000 Israeli soldiers fighting on the ground in southern Lebanon. They're moving north toward the outskirts of Bint Jbeil, a town about 2 1/2 miles inside Lebanon's border.
The town is known for its strong support of Hezbollah during Israel's 1982-2000 occupation of southern Lebanon. Many of Bint Jbeil's 200,000 residents are believed to have fled, but thousands remain.
As the civilian death toll in Lebanon climbs toward 400, the Israeli military is still warning people in the southern part of the county to evacuate.
And there's been little let-up in the number of rockets Hezbollah is aiming toward cities and towns across northern Israel. Westervelt's sources in the Israeli military estimate that Hezbollah fired about 90 rockets into Israel today.
In other developments Monday:
• President Bush promised to contribute $30 million toward aid for Lebanon, and he ordered helicopters and ships to the country to provide humanitarian aid. U.S. supplies are expected to start arriving Tuesday.
An Italian warship has already brought food, medicine, tents, blankets, water, electrical generators and ambulances. And a ferry carrying supplies from France has also arrived.
But aid workers say they already face huge challenges trying to get the supplies from Beirut to the people who need them.
U.N. Emergency Relief Coordinator Jan Egeland told NPR on Monday that about 700,000 people are now in need of assistance in Lebanon, and about 550,000 are displaced from their homes.
• There are signs that the mass evacuation of foreigners from Lebanon is winding down.
Thousands more people landed in Cyprus and Turkey on Monday. A Cypriot police spokesman, Demetris Demetriou, tells Reuters that about 35,000 total evacuees have arrived in Cyprus. Most of them are Americans, Canadians, Britons, French and Australians.
The State Department reports that 12,600 U.S. citizens have been transported out of Lebanon by the United States since July 16. Nearly 2,000 were expected to arrive in the United States on Monday.