MTV, Kennedy and Me: Let's Begin to Heal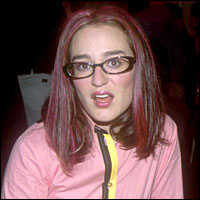 Like many nerds who came of age in the 1980s, I grew up on MTV. It was born on my ninth birthday — Aug. 1, 1981 — and my family got cable soon afterwards, which meant a steady diet of Duran Duran, Devo, The Eurythmics and other alternatives to exercise, the opposite sex and natural light.
It's a common lament among those in my generation that MTV doesn't show videos anymore, and that today's teenagers are robbed of the experience we grew up with, from the air of musical discovery to the sense of anything-goes rebellion to the towering hair. Many wonder whether kids growing up today will feel a connection to MTV the way we did, and the answer is: If it's been a part of their lives, they probably will. We feel nostalgia for pop culture because it was there when we were there, and that's about it.
Throughout its 25 years, MTV has left an indelible mark on tastes and culture. The Real World helped launch the phenomenon of reality television while teaching a generation about exhibitionism and eating disorders. The network helped ignite the careers of virtually every major pop singer to gain notoriety in the '80s and early '90s. It made household (or at least dorm-room) names of everyone from Nina Blackwood to Jesse Camp and beyond. For many years, it not only aired videos on its flagship channel, but also found room on its playlist for underground music — even clips by the unsigned, unknown likes of Dog Police.
In October 1993, when I was music director at the University of Wisconsin's then-microscopic student radio station, WLHA, MTV came to town as part of a tour of college campuses. During the four days it was in Madison, the network shot an episode of the alternative-music showcase Alternative Nation in WLHA's musty basement studios. So, on a Friday night, shortly before its nine billionth airing of some episode of Beavis and Butt-Head, I got to make my national television debut alongside spasmodically obnoxious MTV personality Kennedy.
Our exchanges — which spanned 90 minutes of programming but could be edited down to seven and a half harrowing minutes of footage — were, to put it diplomatically, awkward. Kennedy gabbled and shrieked and spouted inside jokes, while I wrung my hands nervously, smirked blandly and tried to keep up with Kennedy's patter. I was lost and terrified, of course, and it showed: I couldn't have been more flummoxed by her boilerplate questions ("What are the kids listening to these days?") if they'd been calculus equations posed in Sanskrit.
I would rather be stung by 10,000 hungry wasps than share this footage with the world — no streaming video for you, public! — but a few of the friends who have seen it have marveled at the way my conversation with Kennedy seems to take place not only in another era, but on another planet. There's a public-access feel, and this woman is rambling and tripping over her lines, and then this nervous fellow introduces an Aerosmith video for some reason, and who is that guy shrieking on the phone? This is MTV, the trendsetter and tastemaker, on its most cutting-edge show?
The fact that MTV would put a scrawny, flopsweat-soaked, 21-year-old college-radio music director on its airwaves for an hour and a half (not to mention the fact that it would employ Kennedy for years) might have been cause to question the network's judgment. But in many ways, the experience characterized what's so lovable and maddening about MTV at its best: It flies by the seat of its pants, tries new and often abrasive things, films nitwits riding skateboards off of rooftops, and even airs short film clips timed to songs by popular musicians. MTV may be struggling to re-establish its identity today, but as long as it remembers to risk looking foolish — and make eager 21-year-olds do the same — it'll be just fine.