John Huston, Hollywood's Human Element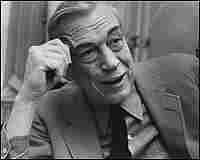 Fred Mott/Hulton Archive/Getty Images
Filmmaker John Huston — born 100 years ago Saturday, on Aug. 5, 1906 — made some of cinema's most enduring classics, among them The Maltese Falcon, The African Queen and The Treasure of the Sierra Madre.
He was nominated 14 times for the Academy Award, for writing, directing and acting. He helped his father, Walter Huston, to the Oscar for Sierra Madre. Nearly 40 years later, he turned the same trick for his daughter, Anjelica Huston, in Prizzi's Honor.
In an era of studio films shot on Hollywood sets, Huston made movies in Africa, Mexico, Ireland and on the open sea, through multiple marriages, public brawls and bouts with alcohol. Amid praise and admiration, Anjelica Huston's descriptions of her father include words such as "terrifying" and "rage."
Huston, playing the cooly brutal character Noah Cross in Chinatown, tells Jack Nicholson's Jake Gittes: "Most people never have to face the fact that at the right time and the right place they're capable of anything."
Huston's films revealed human weakness, human resilience and whatever it is that makes people chase misguided dreams to certain failure, and then get up to pursue the next treasure... the authentic Falcon... or the great white whale.
A 'Quotable' John Huston Quiz
11 Huston Movies
&nbsp
Match the movies below to the quotes at right:
&nbsp
1. 'The Maltese Falcon' (1941)
&nbsp
2. 'The Treasure of the Sierra Madre' (1947)
&nbsp
3. 'Key Largo' (1948)
&nbsp
4. 'The Asphalt Jungle' (1950)
&nbsp
5. 'The African Queen' (1951)
&nbsp
6. 'Moby Dick' (1956)
&nbsp
7. 'The Misfits' (1960)
&nbsp
8. 'Casino Royale' (1967)
&nbsp
9. 'The Life and Times of Judge Roy Bean' (1972)
&nbsp
10. 'The Man Who Would Be King' (1975)
&nbsp
11. 'Prizzi's Honor' (1985)
&nbsp
Hulton Archive/Getty Images
Columbia Tristar/Getty Images
Warner Brothers/Getty Images
John Huston wrote or adapted the screenplays for many of the films he directed, and the best ones are full of crackling dialogue and quotable quips. Can you match the quotes below to this list of movies directed by Huston?
A. "If I'm going to be alone, I want to be by myself."
HINT: The line is delivered by a woman, not a hard-boiled detective.
B. "I understand you have taken exception to my calling you whores. I'm sorry. I apologize. I ask you to note that I did not call you callous-ass strumpets, fornicatresses, or low-born gutter sluts. But I did say "whores." No escaping that. And for that slip of the tongue, I apologize."
HINT: Another great line from the movie is "The last time that bear ate a lawyer, he had the runs for thirty-three days."
C. "Badges? We ain't got no badges. We don't need no badges. I don't have to show you any stinking badges."
HINT: The speaker's name is "Gold Hat"
D. "After living in the USA for more than thirty-five years they called me an undesirable alien. Me. Johnny Rocco. Like I was a dirty Red or something!"
HINT: The speaker is Edward G. Robinson.
E. "I hope they don't hang you, precious, by that sweet neck. Yes, angel, I'm gonna send you over. The chances are you'll get off with life. That means if you're a good girl, you'll be out in 20 years. I'll be waiting for you. If they hang you, I'll always remember you."
HINT: The target of the comment is Mary Astor.
F. "Well I ain't sorry for you no more, ya crazy, psalm-singing, skinny old maid!"
HINT: Oscar-winner.
G. "I'll follow him around the Horn, and around the Norway maelstrom, and around perdition's flames before I give him up."
HINT: The line is from an adapted screenplay.
H. "Do I ice her? Do I marry her?"
HINT: Daughter Anjelica Huston won the Oscar for this film.
I. "Now listen to me you benighted muckers. We're going to teach you soldiering. The world's noblest profession. When we're done with you, you'll be able to slaughter your enemies like civilized men."
HINT: Christopher Plummer plays a noted writer in this film. But this is not his line.
J. "Experience has taught me never to trust a policeman. Just when you think one's all right, he turns legit." Sam Jaffe as "Doc Riedenschneider"
HINT: The speaker is Sam Jaffe.
EXTRA HINT: Marilyn Monroe had a bit part in this film.
K. "You can't shoot me! I have a very low threshold of death. My doctor says I can't have bullets enter my body at any time."
HINT: The cast includes William Holden, George Raft and Orson Welles... none of whom deliver this line.