Jellyfish on Holiday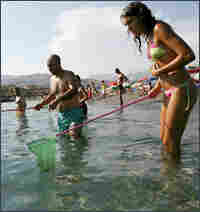 Our brethren — and, well, is there a counterpart for sisters? — at the BBC share this ditty.
It turns out that tens of thousands of summer revelers who've been dumb enough to think that they should still be allowed to have fun swimming in the Mediterranean have got their come-uppance this season. They got stung by giant swarms of jellyfish, which came jiggling closer than usual to shore because the shallow water's been unusually warm.
A researcher at the Institute of Marine Science in Barcelona told the BBC that global warming could make the jellyfish invasion worse. And he said that over-fishing — another one of those awful dilemmas that makes a lot of people yawn — might be exacerbating the problem by killing off predators that would normally turn the jellyfish into a meal.