Fires Scorch Nebraska Cattle Industry
Fires Scorch Nebraska Cattle Industry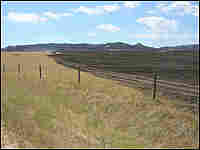 Not far outside Harrison, Neb., the rolling, golden hills — usually dotted with green pine forests — suddenly fade to black.
It's a bad sign for cattle ranchers in Nebraska and Wyoming, who are assessing the damage and facing difficult business decisions in the aftermath of lightning-sparked fires which rapidly burned across 70,000 acres of dry grasslands. Ranchers had planned on using the grass to feed cattle... and the fires also destroyed miles of fences that keep the cattle in.
The only hardware store in Harrison is selling replacement fenceposts at cost, but even that break won't help ranchers who can't afford to feed their catle.
So many ranchers are turning to livestock auctions much earlier in the season than they would prefer. Yearling cattle are weighing in 100 pounds lighter than normal, and since ranchers are paid by the pound, that means less money.
Allen Slagel of Newcastle, Wyo., sizes up the dilemma:
"If we keep the cattle, we've got to either buy feed... sell cows... or haul cows to somewhere where there is feed. And as everyone knows, with fuel prices as high as they're getting anymore, you can't hardly afford to haul cows off, pay for pasture to feed 'em and then haul 'em back home..."
And Bob Stoddard of Douglas, Wyo., offers a rueful observation:
"My favorite saying is, "I found out finally how to make a small fortune in the cattle business... you start with a large one."
Donations of money, hay and fence supplies have started to arrive. And because of the drought, the federal government is offering several emergency programs to ease the financial strain on ranchers.