Letting Up Despite Great Faults: 'I Hear You Drowning But I'm Tied'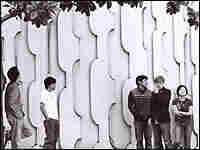 Web Resources
Letting Up Despite Great Faults is an electronic-pop group from Los Angeles, Calif. that makes beautiful, lolling music with whispery vocals. Formed by Mike Lee in 2004, the six-piece band blends sampled sounds and polyrhythms with mandolin, cello, guitar and keyboards.
The band got its unusually long name when Lee decided to start writing and recording songs despite feeling he wasn't very good.
Letting Up Despite Great Faults debuted in September of 2005 with the CD Hide. Their latest release, Movement was released in August 2006. The featured track is "I Hear You Drowning But I'm Tied."