Becoming a Piece of the Picture: Life in Afghanistan
Becoming a Piece of the Picture: Life in Afghanistan
Sarah Chayes is a familiar name to NPR listeners. She reported for NPR from Paris, the Balkans, and after the fall of the Taliban, Afghanistan. She became so captivated by the potential of Afghanistan that she left reporting, and started a nonprofit group in the southern city of Kandahar.
She still lives in Afghanistan, now running a cooperative agricultural venture that sells local soaps and oils. Chayes has written a book about her years in Afghanistan. Her book tells a story of corrupt warlords, counterproductive U.S. policy, and murder.
Excerpt: The Punishment of Virtue
Sarah Chayes/The Penguin Press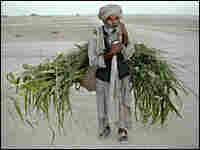 Sarah Chayes/The Penguin Press
Sarah Chayes/The Penguin Press
In June 2005, Kabul police chief Muhammad Akrem Khakrezwal was among those killed in an explosion at a mosque in Kandahar. It was Sarah Chayes' favorite mosque, "the ancient one made of mud plaster in the middle of the bazaar, with the four towers leaning a little jauntily into the sky."
Women do not attend funerals in Afghanistan, but Sarah Chayes rode in the convoy to Khakrez, where Akrem would be buried. She had come to know him well during her years in the country. He was one of her most trusted sources for information.
From Ch.1: Suicide Bombing
We reach what must be the graveyard and stretch out in long lines, cotton shawls unslung and laid on the ground in front of each man for prayer. There is no wall enclosing this place, just the windy hills, and the sky and the mountains on the horizon. No gravestones, just scattered mounds, some marked with tall poles at head and foot, scraps of cloth fluttering like flags in the light breeze. Before us are three bodies: Akrem's and two more casualties from yesterday; I don't know exactly who they are. They lie on ample beds made of dark wood, carved with an ancient pattern. Akrem's blanket has been exchanged for a velvet cloth, richly embroidered with holy verses in silver thread. Men stand like human tent poles at the corners of great lengths of cloth, shielding the biers from the sun; they are hoisting the cloth up and down to fan the air. It has grown hot. The bodies are decomposing. We can smell them.
We are told that we must wait a little longer. Some important people are coming. No one from Kabul -- not President Karzai, nor the interior minister, nor any of the American officials whom Akrem consulted with so often and so generously, nor the journalists who used to interview him. But his tribesman and successor as police chief of Mazar-i-Sherif in the far north is on his way. People from Mazar have been arriving all morning: Uzbeks with their bushy hair and angled eyes, Persian-speaking Tajiks, northern Pashtuns, grateful for the peace that Akrem achieved for them in that bitterly divided town. Mazar was supposed to do him in. But it didn't. He won it over, with all its disparate people; he pacified it.
The governor of Kandahar, Gul Agha Shirzai, is coming too. I am aghast. Shirzai is gloating over this death. I know it. My tuning fork hums with it. In Kandahar, Akrem stood up to Shirzai. Shirzai loathed him, wanted him out of the way. How can we tolerate Governor Shirzai here? What is this culture that makes the Afghans, the famously bloodthirsty Afghans, welcome their mortal enemies into their midst, and show them courtesy?
Someone shouts something at me. Angrily. Pointing. He won't be quiet. I retort, temper flaring. Someone else turns and makes a gesture to calm us down. It is a gesture of prayer. I am ashamed. I have overstepped myself. I am a woman, and my presence in line will render the collective prayer unclean, unacceptable to God. That's what the man was shouting at me. Nastily, insultingly. I drop it and stand aside—coming apart. I go to the black van, empty now, slide back the door, and sit inside. There is a small puddle of blood on the floor.
After the prayer I can return. The men hand the body into the grave. Two of them climb down and start bricking him in. It is an oddly physical labor. They work like master masons, slapping on mud to caulk the joints. I help pass the big flat bricks down to them. Then, when they are done and have climbed out, younger men take turns with shovels. When the earth is filled in and piled up, we begin choosing stones to stud the mound from a heap behind us. Two cut saplings are anchored at head and foot. Someone loops the thin strip of cloth that had bound the body around the saplings, and ties it off. And it is done. He is really, truly gone.
I pick up a stone from the mound and put it in my pocket.
General Muhammad Akrem Khakrezawal, chief of the Kabul police, was forty-six years old. Barely two months in office in the Afghan capital, he was already loved by the population, gruff Pashtun from Kandahar though he was. Akrem was, bar none, the most able public official I encountered in Afghanistan.
And he was my friend.
I don't know if I will ever be able to find out who killed him. But I will try. By God, I will try. And the obvious way to start is to determine who did not.
Excerpted from THE PUNISHMENT OF VIRTUE by Sarah Chayes. Reprinted by arrangement with The Penguin Press, a member of Penguin Group (USA), Inc. Copyright (c) Sarah Chayes, 2006