Surfing the Web on the Company Dime
Surfing the Web on the Company Dime
Read the Report
How do Americans use the Internet while at work? Some people have the ability to see anything on the World Wide Web -- but others' bosses are stricter. Robert Siegel talks to Kentucky's state treasurer, an Internet security executive, and an e-policy analyst about shifting attitudes toward Internet usage in the workplace.
We also hear from workers in Kansas City, Mo., Oakland, Calif., and Seattle about how much access they have to the Internet on the job.
Wipeout: The Dangers of Workplace Websurfing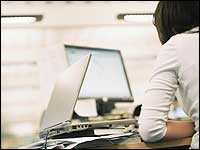 In some corner of your mind, you probably know the company is there, watching you. Maybe there's a vague memory of being handed an Internet-use policy on your first day of work. But did you actually stop to read it? Perhaps you were too busy clicking "yes" to the many "terms of use" policies you encountered while registering at Web sites ... at work.
About one-quarter of employee terminations are due to misuse of workplace Internet privileges, according to a recent survey. In a case that gained attention earlier this year, a New York administrative law judge found Internet use no worse than using the phone or reading a newspaper at work.
But companies usually don't share that view. Some firms find employee cyber-slacking cause enough for disciplinary action, and others gear their policies toward warding off lawsuits -- and financial ruin -- stemming from employee e-mails or blogging.
Regulating Your Workplace Web Time: Last year, a survey of more than 500 companies found that 61 percent disciplined employees for inappropriate Internet use; one-quarter of them went as far as firing a worker. That's not all that surprising when you consider that three out of five employees admit to personal Websurfing while on the clock, according to another survey of 500 employees conducted this year.
Many firms have set policies regulating what employee can and can't do on company time:
-- 84 percent regulate personal e-mail use
-- 81 percent regulate personal Web use
-- 42 percent regulate personal IM use
-- 23 percent have rules on personal postings to a corporate blog
-- 20 percent set policies on personal blogging while at work
Big Brother Is Watching: In 2005, three-fourths of companies surveyed said they monitored their workers' online connections. And 65 percent of firms said they block employees from accessing certain Web sites -- a 25 percent increase from 2001. But most of the time, these kinds of monitoring should not come as a surprise. A full 89 percent of companies told workers if they were being watched.
Legal Liability: E-mails may travel from sender to receiver in a flash, but their digital trail lingers much longer -- and that has landed some firms in hot water. A 2006 survey of more than 400 companies found that 15 percent have fought a lawsuit triggered by a worker's careless correspondence. One in four firms has had a worker's e-mail subpoenaed, and about the same number say they've fired a worker for misusing electronic correspondence.
Sources: American Management Association and the ePolicy Institute; Harris Interactive