Survivors' Stories: Living Through Katrina
Questions or Comments?
Rufus Burkhalter and Bobby Brown
Hear Burkhalter and Brown's Story
Rufus Burkhalter, 61, and his friend and co-worker Bobby Brown, 58, are water-pump operators at Pumping Station No. 6 along the 17th Street Canal in New Orleans.
In the days after Katrina hit, Burkhalter and Brown risked their lives inside the station, continuing to work even after the levees broke. Pump Station 6, in Orleans Parish, is one of the world's largest pumping stations.
Brown's home in the Lower Ninth Ward was submerged and destroyed, and everything inside Burkhalter's home was severely damaged by the rising water.
The pair have worked together for more than 20 years.
Rachel Leifer and Joshua Norman
Hear Norman and Leifer's Story
Three months into his new job at the South Mississippi Sun Herald in Gulfport, reporter Joshua Norman, helped cover Hurricane Katrina's aftermath on the Gulf Coast.
Norman loaded his car with valuables (photos from Africa, his guitar, passport, board games, beer and whiskey), and parked it in a garage before setting out to report on the storm around Long Beach, Miss., a town he regularly covers.
The newspaper's work led to a Pulitzer Prize for public service.
John Taylor
John Taylor was born in New Orleans' Charity Hospital and raised in the Lower Ninth Ward. One of his sisters died at the hospital during Hurricane Katrina because of a power failure.
The storm also destroyed his childhood home, including the only things Taylor, a dockworker, says he really wanted from there: photos of himself when he was younger.
Roy and Tony Calabrisi
When Katrina hit, Roy Calabrisi, 83, stayed in his home. But after he suffered a heart attack, he was taken by boat and then airlifted to a hospital for successful heart surgery.
His younger brother, Tony, 77, evacuated his home in St. Bernard Parish just before it was reported that the levees had broken. Roy's home flooded and then burned when a fire started next door.
Tony and Roy have an older brother, Sal. They also have two sisters. One, who is 82, moved to Alabama with another sister after Katrina totaled her home.
Roy vows never to leave, saying "When I go, I'll go out feet first."
Drs. Justin Lundgren and Kierstra Kurtz-Burke
Drs. Justin Lundgren and Kierstra Kurtz-Burke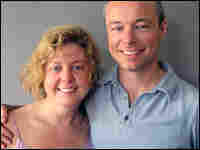 Dr. Kiersta Kurtz-Burke spent five days trapped inside storm-damaged Charity Hospital, caring for patients as they awaited rescue. Speaking in their New Orleans home, Kurtz-Burke tells her husband, Dr. Justin Lundgren, about conditions inside the hospital right after the power generators went out.
After a gas leak was discovered in the hospital, Kurtz-Burke wrote a letter to family and friends just in case anything happened. She had 16 patients on her floor of the hospital, along with numerous family members of patients and staff.
After the storm, Charity Hospital was shut down and all employees were laid off.
StoryCorps in New Orleans