Peaks, Valleys and a Festival Full of Life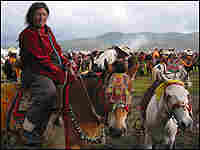 "You can see it, but you can't get to it."
That's how bus drivers plying the highway onto the Tibetan plateau describe their route. What they mean is that the way between two points is never a straight line, but instead a tortuous series of switchback roads up one soaring peak and down another.
It takes 16 hard hours of bus riding from Chengdu, the capital of Sichuan province, up onto the Tibetan plateau and over to Litang county. The route is part of an ancient trade route along which caravans traveled, trading Tibetan horses and Chinese tea. It passes by roaring rivers, mountain passes festooned with prayer flags and valleys with traditional Tibetan stone houses and Buddhist reliquaries.
Roughly half of China's 4.5 million ethnic Tibetans live in several provinces outside Tibet proper, now officially known as the Tibet Autonomous Region. These are the traditional Tibetan homelands of Kham and Amdo.
While much of Tibet proper is arid and dusty, Kham's mountains and hillsides are a lush, emerald green in summer — good farmland for crops of barley and pastureland for nomads' shaggy-haired black yaks.
The TAR is a remote border region of strategic and military importance, increasing Beijing's concerns about its stability. Sichuan, by contrast, is a heartland region and agricultural breadbasket.
In the TAR, some Tibetans are worried that an influx of majority Han migrants will dilute their culture. That issue is less of a concern in Kham, which has long been a cultural melting pot. Ethnic relations are more relaxed than in the TAR, and Tibetan culture remains vibrant.
The annual Litang Horse Festival is an example of this. After years of being banned, the festival was restored ten years ago, and has since been growing in popularity. It now draws thousands of participants a year, including numerous camera-wielding foreign tourists.
The Khampa horsemen riding to the festival grounds flashed the occasional gold-toothed smile at observers. But more often their faces — distinguished by their jutting, high cheekbones and aquiline noses — radiated a haughty pride and steely defiance. Particularly those carrying rifles, bows and arrows seemed to illustrate the Khampas' reputation as formidable mounted warriors.
A visit to the tent city erected specially for the festival, however, shows the Khampas' other side — a warm and sincere hospitality. Visitors will find themselves invited into one tent after another. These are comfortably furnished with low tables, benches and carpets, as the Khampas will live here for up to a week. The tables are piled high with yak meat dumplings, pastries and soft drinks.
The raw frontier energy of Kham is a far cry from the sprawling metropolises of China's interior. Life appears harsher and simpler here, although it is all changing quickly. Those interested in sampling the region's wild flavor would do best to do so sooner rather than later. Kham's first airport is slated for construction in time for the 2008 Beijing Olympics. Until then, the hardships of the 16-hour bus ride will be totally worth it.