Katrina Victims Still Struggle to Find Way Home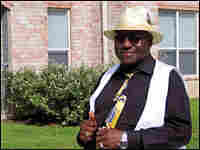 Reddix describes watching her house, which caved in, being gutted by the city of East Biloxi.
More from the Lockwoods: Jan Lockwood, who grew up in Cameron, La., lost dozens of members of her family during Hurricane Audrey when she was 12. She says she's a survivor.
Travel Highway 90 and I-10 from Biloxi to New Orleans and evidence of Katrina's destructive power is obvious: Ruined houses on deserted streets in New Orleans' Lower Ninth Ward, and scoured concrete slabs that once were beach homes on the Mississippi coast.
In one quiet neighborhood in East Biloxi, Miss., there are some signs of recovery. Lee Smith is sweating through his shirt on a step ladder in the wilting mid-day heat.
He's one of nearly 300,000 people displaced by Katrina who are still unable to go to bed at night in their own homes, but he's closer to that dream that most. Thanks to volunteers from a church group, his new house has a floor, four walls and rafters.
Smith says he hated to see the volunteers return to Seattle. "We wrote scriptures on all the walls in here," he says. He reads from one of the writings, echoing Psalm 89: "I will sing of the loving kindness of the Lord forever."
Short on Aid in E. Biloxi
It's easy to conclude, as you tour the Gulf Coast, that the great calamitous stories of the Bible may have had their beginnings in events like the monster storm surge that flooded more than 6,000 homes in Biloxi alone, the majority in low-income East Biloxi.
Now the challenge for Smith and others is finding the money to re-build. Smith didn't have flood insurance. He's already spent the small amount of money he got from a homeowners' policy and FEMA. Now, he awaits more rebuilding money that is supposed to be distributed by the state.
"They tell us one thing and do another," he says. "They said that people would be receiving money in two weeks. That was last month. Nobody got anything. Then they come up with the mortgage company going to get theirs off the top to pay all your bills off, and whatever's left, you get."
Many devastated residents of East Biloxi don't even qualify for the rebuilding funds. Each state makes its own rules, and so far Mississippi's program that provides grants up to $150,000 leaves many people out — especially poor people. New flood guidelines call for some houses here to be elevated 10 feet or more. FEMA provides grants of up to $30,000 for that.
But sitting beside her FEMA trailer, on the empty lot where her home used to be, Cora Reddix says, for her, elevating is not an option. At 86, she has arthritis and is missing some toes. She fears she wouldn't be able to climb the steps to an elevated home.
In fact, the new elevation guidelines could force many old folks who populate these neighborhoods to sell out to developers or casino interests. Already, casinos have bought up some of the ruined property in Biloxi.
Hope on the High Ground
Of all the locations hammered by Katrina a year ago, the most hopeful story can be found on the high ground in New Orleans along the Mississippi River.
Tourists are returning to the French Quarter. Most of the hotels and restaurants are open. The Convention Center has bookings. Almost all of the premium office space in the business district is occupied, and the Port of New Orleans is nearly back to normal.
About half of New Orleans' pre-Katrina population is back, mostly crowded into this high ground along the river. That means small businesses here are back, too.
Ned Henry runs a small animal hospital in Uptown, a few miles upriver from the French Quarter.
"We're busier now than we were before the storm," he says. "That might be because people have moved from the low ground up to the high ground. I'm not sure. But I think around here, a lot of businesses are doing fine. If they were able to open up after the storm with little damage, they're doing OK."
Henry's business didn't flood, and neither did his home.
"But I have a lot of friends who lost a lot," he says. "Some people lost everything. And the stress of that, I think, is affecting everybody here... I used to just read the comics in the newspaper. Now I run out to see what the front page news is."
Staying Put in the Ninth Ward
In the Lower Ninth Ward, the smallest sign of normal life is savored. Jerry Williams, a man with white hair and sad eyes, is rehabbing his flooded duplex on Todd Place. But he's exhausted.
"Financially I can't go any farther. I'm mentally drained," he says. "And you still look around and say, 'Well, I really haven't put a dent in here.' I have floors to do. I have doors to put up..."
The road home for residents of this devastated neighborhood is filled with obstacles. The huge debris fields near the catastrophic breaches in the Industrial Canal have been largely cleared. But some areas here still don't have electricity and sewer service. Many blocks in the Lower Ninth have no returnees.
Williams is among a few making progress. New sheetrock hangs on walls that withstood six feet of water. There's new electrical wiring behind it. But it took dogged effort, about $9,000 in insurance and FEMA money, and all of his savings.
"I just paid for my home in April," Williams said. "It's mine now. It took years and years of paying. So I don't have much choice. Do you think I have much choice? Do you know somewhere else I can go?"
He rejects the notion that he could try to sell and move elsewhere.
"I've been here for 23 years," he says. "This is my home. I hope that penetrates to everybody in America. You live where you live, I live where I live. You love where you love. I love where I love. I love New Orleans. I have always loved New Orleans. I don't want to go nowhere else. I'm sorry."
Williams' cousin, Terry Coleman, once lived a few blocks away in a little white shotgun house. The small porch still has Katrina mud on it. His mother built the home — one piece of lumber at a time — during World War II. Now it's ruined.
As he surveys the scene, Coleman points toward the lone person back on the street — two doors down — and says he's not sure it's worth rebuilding.
"Worst case scenario is to have it piecemeal," he says. "You see in this situation here, it's only one person back in this whole block. He doesn't own the property, his mother [does]. He's not going to be here forever... So that means that the only person that's here is a squatter."
A Refuge in Gentilly
At St. Gabriel the Archangel, in the Gentilly Woods area of New Orleans, worshippers gather in a church that has become a refuge for Aria Bocage, a 26-year-old mother of two. She and her husband are picking up the pieces in this devastated neighborhood.
"You step into the doors of the church, it's like nothing ever happened," Bocage says. "But soon as you step outside, you look across the street, you see the homes are still battered."
Each Sunday, Mary Gold Hardesty notices "eight or 10 people" newly returned to the neighborhood. For her, the resurrection of St. Gabriel from the flood is a sign that her middle-class, largely African-American neighborhood will be reborn, too. In fact, all but two of the homeowners on her cul de sac off Mendez Street are back.
With the help of a Small Business Administration loan, Hardesty got a quick start on her one-story brick house in February. But she's disappointed with the progress since. She gave the contractor a $90,000 down payment, but the house remains gutted.
"They ask me for money every day they call," Hardesty says. "But that's not $90,000 worth of work in there."
Troubles with contractors and a shortage of skilled tradesmen have slowed the return home for many of Katrina's victims.
An 'Inspiration' in Lakeview
West of Gentilly, across City Park, is a largely white neighborhood called Lakeview. Middle-class and upscale homes here were flooded by a huge breach in the 17th Street Canal.
Glenn Stoudt, a member of the Lakeview Civic Improvement Association, notes progress over the past several months: "You've got roofs on houses, you've got some lawns cut, you've got people that have rebuilt..."
Still, a third of the homes in the neighborhood have not been touched since the flood.
Not so Jan and John Lockwood's place on General Haig Street, which features fresh paint, gleaming hardwood floors, new kitchen appliances... and no trace of the flood waters that filled the rooms for more than a month. Immediately after Katrina, John Lockwood stood in ankle-deep mud in his own home.
But Jan Lockwood says their home cleaned up nicely:
"Once you get that out, the old molded sheetrock, all the old sofas that were all corroded, then you could see studs, and then you get it cleaned, and then you could see some potential."
The Lockwoods were the first family on the block to move back in.
"In January when we moved in, everything was gray and brown," Jan Lockwood recalls. "And he planted the rye grass, and it was green and lush, and he went and got his lawnmower, and people would pass by... they said, 'You're like an inspiration.'"
"The progress we've made has been mostly because of her," John Lockwood says of his wife. "She'd throw herself in front of the truck to stop them. We want electricity! This, that and the other."
"Well, you have to be a little aggressive," Jan Lockwood says.
And tenacious. In 1957, 40 members of Jan Lockwood's extended family died during Hurricane Audrey. She barely escaped. She says she's a survivor. And Lockwood says she's confident the repairs and improvements to the levees mean New Orleans is more secure now than it was before Katrina.
'Have to Let New Orleans Go'
In a corner of Houston's giant convention center, mothers with children in tow are looking for help. They're among at least 111,000 Katrina evacuees still living in Houston. Tymica Trotter-Hurst, 30, lived in the Cooper housing project in New Orleans, near the Superdome.
She's still adjusting to life in Houston, and she's still in search of a job. In New Orleans, she was a medical records clerk and a nurse's assistant. Now, like more than half of the evacuees in Houston, she and her three children depend on FEMA for housing assistance.
She's pleased that despite the trauma of Katrina, her children have done well in Houston's schools, even though their classes are more challenging.
She has no plans to go back home to New Orleans.
Miles from the bustle of downtown, in a gated community for seniors, Jerry White has decided to stay in Houston, too.
"I have to let New Orleans go," he says.
White was a law clerk. Now he keeps busy decorating his FEMA-subsidized apartment. He was emotionally devastated by the hurricane. He was evacuated by boat from his Mid-City neighborhood, deposited on the Broad Street overpass and spent three days and nights there, with almost no food or water. Convicts from the Orleans and St. Bernard prisons were at the foot of the bridge.
"That's something that I never thought or dreamed I'd have to go through in my life," he says. "I had never seen people die around me, and that was kind of devastating to me... That bridge really put the icing on the cake. Staying up there, laying on the concrete, many nights I cried. I didn't let nobody see me cry, but it was nothing nice."
White says when the helicopter lifted him of the Broad Street bridge, he said goodbye to New Orleans forever.
"To think about New Orleans is a nightmare to me now... I have to look forward to a brighter day," he says. "Got to let the past be the past. I had good years in New Orleans, wonderful years. But it's gone."
How long it will take for Katrina's victims to find their way home — geographically and emotionally — remains to be seen. It's clear that for many, the journey is far from over.
Evie Stone produced this story.