Ira Marlowe: 'Song for Pluto'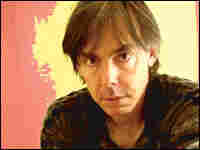 Web Resources
Singer-songwriter Ira Marlowe has played the Filmore, the Great American Music Hall... as well as a Howard Johnson's and a Briss. Raised on everything from George Gershwin to David Bowie and Western swing music, Marlowe's current sound has drawn comparisons to Elvis Costello and Leonard Cohen. His latest tune, "Song for Pluto," pays tribute to the celestial orb that recently lost its status as a planet.
Marlowe was shuttled from town to town while growing up with his anthropologist parents. At age 13 he sold enough greeting cards, door-to-door, to earn a Folktune Wood Guitar. At 19 he began to write songs. In the years since, he's developed a literate, narrative style often described as cinematic.
In 2000, Marlowe teamed up with versatile guitarist Roger Linn, inventor of the first programmable drum machine. The two perform as an acoustic/electric duo throughout the San Francisco Bay Area, and also as a full band when accompanied by bassist Don Bassey and drummer Paul Revelli.