'People Want Something That's Going to Last'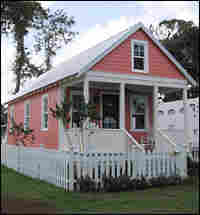 A dispatch from Noah Adams, blogging from the Gulf Coast:
I'm in Ocean Springs, Miss., and I've seen the future... Or maybe not.
Where can you live if your house gets washed away? The Katrina cottage was designed after the storm as a "dignified alternative to the FEMA trailer." Maybe you've seen the pictures — cute, small homes with peaked rooflines and front porches. The idea was to build one, live in it for a while, and maybe use it later as a guesthouse or studio or just expand the cottage itself.
Cottage Square was dedicated in Ocean Springs yesterday, the one-year anniversary of Katrina. It's to be a showcase neighborhood of the Katrina homes. Seventeen will be built, mostly rentals plus several model units.
Michael LeBatard, one of the architects, talked with me on the couch in the living room of the larger of two cottages, already built (Yes! It's air-conditioned!). This one, at 540 square feet with steel wall construction, came from Pennsylvania on a flatbed truck.
"How much would it all cost — the kit that I'd order, the construction I'd pay for, the foundation?" I asked him.
"Maybe $80,000" he said.
"Appliances included?"
"Yes."
The smaller cottage next door, at 308 square feet, is meant to be about the size of, but far more comfortable than a FEMA trailer. LeBatard said you could purchase that one for $45,000 to $50,000. "And it's permanent," he said. "People want something that's going to last. Not like a trailer that's going to be crushed like an aluminum can."
He envisions Cottage Square as a walking community with its own shops and a cafe, with sidewalk access to downtown Ocean Springs. "And it's high here" LeBatard said. "We're on a bluff, plus these structures meet the hurricane wind standards of 140 mph."
The Lowe's brand name is all over the two model homes at Cottage Square. Lowe's has "partnered" in the Katrina house movement, ready to sell the kits by the end of this year.
The little houses are in pretty Gulf Coast shades of yellow, pink and blue with white trim. They seem solid and well made, but as you always hear on this coast during recovery, "Who's got the money? Who's got the time?"