An Atheist Antidote to Religious Fanaticism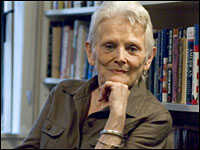 Brought up as a Methodist, Pat Berger, 78, had never been particularly religious.
But for the resident of Manhattan's Hell's kitchen, the attacks of Sept. 11 served as a wake-up call about the dangers of violence in the name of God.
"I really realized that it is all chance, and it is all random," she says. She remembers learning that a woman in her son's apartment building died in the twin towers because she happened to walk into a meeting at the wrong time. "There is no one watching out for anybody," Berger says.
Berger says she'd had a passing knowledge of the history of wars and violence engendered by religious differences: the Crusades, the Protestant Reformation, the Spanish Inquisition. But the terrorist attacks brought that history into focus.
"And I thought, all of this for some -- you know, the imaginary Harvey, the imaginary rabbit," Berger says. "That is how I started to think of this supposed person who held our fate in his hands. Well, I didn't buy it."
On most Saturdays, Berger can be found with other members of the New York City Atheists at a stand in Columbus Circle, in front of the Time-Warner building. She engages passers-by, hoping to interest them in the group's literature promoting atheist thought. Many seem receptive to Berger's message, though she occasionally gets hassled or lectured.
She says the hardest conversation about atheism she's ever had was with a dear, dying friend, who begged her to believe so they could be together in heaven.
All she could say, Berger says, was, "Roseanne, I love you."