Unmanned Planes Over New Orleans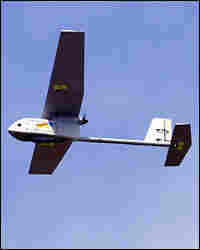 Dennis Rogers/U.S. Air Force
A dispatch from Noah Adams, blogging from the Gulf Coast:
Imagine being able to sit at a laptop at a command post in New Orleans and zoom a video image in on the faces of the people stranded on the rooftops in the flood? Imagine seeing their expressions. And you can direct rescue units to the precise locations.
This morning I talked by phone with Air Force Lt. Col. Greg Harbin back at the Pentagon about his mission a year ago here in New Orleans. He commands Unmanned Aerial Vehicle (UAV) units for the Air Force. They're basically small aircraft that are used for precise targeting (and sometimes bombing) and they have, in his term, superior "loiter time."
When Katrina hit, Harbin was sent to the Gulf Coast where he assembled a team. He brought the "Evolution" UAVs — the smaller models made of Styrofoam construction with three and a half foot wingspans. When they arrived, the airspace of New Orleans was chaotic and the FAA decided the tiny planes shouldn't go up so Harbin and his techs took the wings off, leaving the sensors intact. They duct-taped one to the bottom of a Blackhawk helicopter and put others on top of the Industrial Canal Bridge, the Hilton hotel and the Chase bank building, which, at 21 stories, is the tallest in town. They controlled the cameras with signals to their tiny motors. Soon, Harbin had 360-degree coverage. The team stayed for three weeks and helped rescue, by their count, 182 people.
Col. Harbin told me he'd used these planes in Fallujah, Iraq, but he hadn't seen anything like the flood here. "You just have an overwhelming desire to help your own people."
And he said the FAA has issued a new ruling: allowing the use of UAVs in future disasters.