Six Lives Transformed by Sept. 11
The events of Sept. 11, 2001, were life-changing for many Americans. They moved, switched careers, and their political, philosophical and religious views shifted as well.
To mark the fifth anniversary of the terrorist attacks, NPR profiles ordinary people who transformed their lives in sometimes extraordinary ways.
Rosalie Gattuso was working in a Long Island dentist's office on Sept. 11. More than half the patients were first responders. She heard mothers come in with children, discussing husbands who had not come home. Later, there were the calls requesting dental records, so that human remains could be identified.
Seared by the pain of grieving families around her, and determined to help, Gattuso decided to join the fire department: She become a volunteer emergency medical technician — at the age of 49. Since April 2002, Gattuso, now 54, has worked both jobs.
Mark Dubowitz was a successful venture capitalist, shuttling between Toronto and Tel Aviv. After Sept. 11, he became frustrated with what he saw as an instinctive tendency in the international community to blame America.
With neither a green card nor a job offer, he quit and moved to Washington, D.C. — where he came to the notice of Clifford May, president of the Foundation for Defense of Democracies, a conservative think tank.
Today, Dubowitz is chief operating officer for the foundation. He also manages the Coalition Against Terrorist Media, which has campaigned against Al Manar, the Hezbollah television station. He played a key role in getting Al Manar placed on the U.S. Treasury Department's list of terrorist organizations.
Hear more of Dubowitz's story.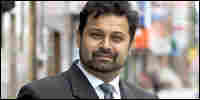 Five years ago, Mohammed Razvi was operating a successful, family-run empire of small businesses in the Brooklyn neighborhood known as Little Pakistan. After the attacks, FBI agents and immigration officials descended on the community, scaring many of its residents. Razvi converted an empty storefront into a community center, where people could seek help if loved ones were detained by the authorities.
It was supposed to be temporary thing. Instead, Razvi has become a full-time community activist. He's helped people get out of jail and now sits on several FBI advisory boards. And he runs the Council of People's Organizations, a non-profit that provides legal advice, offers English classes, and gives the community access to computers.
Steve Marsar is a 44-year-old captain with the New York City Fire Department. He was off-duty the day the planes hit the towers. He rushed to the scene but arrived just after the towers collapsed.
New York City lost 343 firefighters at the World Trade Center that day. Soon after, many others retired or went on medical leave, leaving gaps in the ranks. Some 1,500 firefighters suffered ill health effects. Thousands more needed psychological counseling.
Marsar was already working toward a promotion, but suddenly there was a dearth of experienced leadership. He jumped into the breech and took on added responsibility. Today, in addition to his work as a captain, he is part of a newly formed incident-management team. He volunteers with his local fire department and teaches at the city's firefighter academy.
Masar says he's very lucky to have escaped some of the physical and psychological issues that have beset so many of his coworkers. He says keeping busy has helped him survive.
Pat Berger says that after the twin towers collapsed, she was struck by the profoundly random nature of the tragedy — how some people died because they happened to be in the wrong place at the wrong time on that clear September morning.
Since then, she's come to blame religion for many of the world's ills and violent conflicts. Brought up as a Methodist, the 78-year-old retiree has become an atheist activist. On most Saturdays, she can be found standing behind a booth, talking to people at a busy Manhattan intersection.
Before the attacks, Herb Ouida had a high-powered job promoting world trade centers around the globe. He loved his work.
When the north tower of the World Trade Center was hit, Ouida escaped from the 77th floor. His son Todd, a currency trader at Cantor Fitzgerald, wasn't so lucky. He was on the tower's 105th floor.
Within a month or so of the tragedy, Ouida tried to return to work but found it impossible to continue. Eventually, he and his wife started a foundation for children with anxiety attacks, which had plagued Todd as a child. The Todd Ouida Children's Foundation has so far distributed about $750,000 in donations to help children with similar problems.
Hear more of Ouida's story.