Tae Bo Adds Punch to Fitness Quest
Tae Bo Adds Punch to Fitness Quest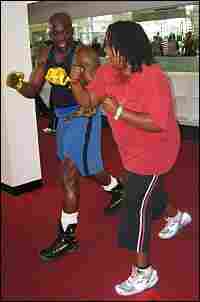 It's been a few weeks since our last fitness challenge, but that doesn't mean I've fallen off the fitness wagon. I'm committed to getting healthy, and continue to try new ways of exercising.
I decided to get serious, and set out to Billy Blanks World Training Center in Sherman Oaks, Calif. When I arrived, there were about 50 people of all ages punching, kicking and sweating to loud, frenetic music.
Blanks, a former professional kickboxer, innovated a unique hybrid of martial arts and aerobics that has earned converts across the globe. I admit, it looked pretty intimidating. So before I took the next class, I got some pointers from Blanks, who is as thoughtful and serious about fitness as his classes are high-energy.
We walked downstairs, where Blanks put on a headset to lead and motivate his next class. I took my place in the back of the room, because I'd been dealing with a knee injury and even if I was in tip-top shape, I would have had a hard time keeping up.