'Eyes on the Prize' Returns to PBS
'Eyes on the Prize' Returns to PBS
More at PBS.org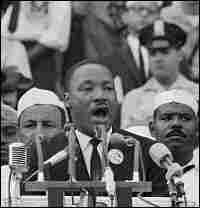 Eyes on the Prize, the landmark documentary series on the Civil Rights Movement that first aired 20 years ago, returns to public television beginning Monday evening on most PBS stations nationwide.
The lauded six-part series captures the birth of the movement from Emmett Till's murder in 1955 and focuses on key moments in the movement, including the Rev. Martin Luther King, Jr.'s "I have a dream" speech capping the 1963 March on Washington, the Freedom March in Alabama, the rise of the Black Panthers, desegregation and Jesse Jackson's Operation PUSH.
Eyes on the Prize hasn't aired on television since 1993 due to a storm of disputes over expired copyrights for archival film footage.
But when the film's creator, Henry Hampton, died in 1998, his sister Judith dedicated herself to bringing the long-admired series back to the small screen.
With those copyright disputes now resolved, the original producers of the series hope the re-broadcast of Eyes on the Prize will inspire a new generation to take up the cause -- and continue to push for the "prize" of racial equality and social justice.