West Bank Olive Farmers Face an Uneasy Harvest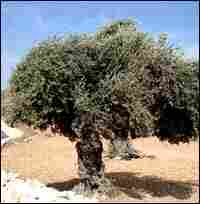 Palestinian farmers in the West Bank are worried that their annual olive harvest will be disrupted by Jewish settlers living nearby. Israel's high court has ordered the army and police to protect the farmers against settler violence.
In recent years, the harvest — a mainstay of the local economy — has been disrupted by sabotage and violent attacks by Jewish settlers living on the hilltops above the orchards.
Farmer Bejass Beni Jabr can't let his sheep wander on most of his land because he says the settlers will open fire.
"We live in a big prison," he says. "We are surrounded from all sides by settlers. Whichever direction we take, we are going to get shot."
This corner of the West Bank, east of the volatile city of Nablus, has been a battleground for years. In 2002, Palestinian gunmen entered the nearby Jewish settlement of Itamar and killed five people. Villagers insisted the gunmen weren't from Yanun.
But in the weeks that followed, Jewish settlers burned the Yanun village's generator, defecated in the water supply and severely beat a number of villagers. Yanun briefly gained notoriety as the first village to be almost completely abandoned during the second intifada, or Palestinian uprising.
Four years later, most of the villagers have returned to their homes. Rashed Maraar keeps chickens in addition to his olive harvest. He says one reason the village has repopulated is the constant presence of Western peace activists who live in Yanun year-round.
Some are predicting a big olive crop this year, but Maraar is not optimistic. He says that even if the Israeli army and police obey the court order to prevent violence during the harvest, the damage has already been done: He's been too afraid of settler attacks to tend to his trees all season.
"I don't expect my trees to give me a good harvest because I have not taken care of them," he says.
Just over the hill from Yanun is the village of Beit Furik, another frequent target for the settlers from Itamar, Elon Morei and their outposts.
At the top of the village, on a windswept hillside, Fawzan Nasassiri, 67, waves at some 20 acres of trees that he can't harvest. Nasassiri, whose brother was shot and killed while harvesting his olives near here a few years ago, says he probably won't take the risk this year; he'll let his crop go to waste.
"I cry when I think of my land," the farmer says. "It only brings grief to my heart that I cannot get near it. My children and I worked very, very hard to replant the land that they burnt."
According to Israeli army figures cited by The Jerusalem Post, about 2,400 olive trees have been burned, uprooted or otherwise destroyed in the West Bank since 2003. This year, under court order to protect the harvest, Israeli authorities have threatened to bar not only the worst known settler offenders but the leaders of liberal Israeli groups that try to help the farmers get their olives harvested.
Arik Ascherman, director of one of those groups, Rabbis for Human Rights, says he'd be delighted if the army would do its job and his presence weren't needed, but his group is planning to send volunteers to the West Bank just in case.