Dodging Horse Racing Injuries with Artificial 'Dirt'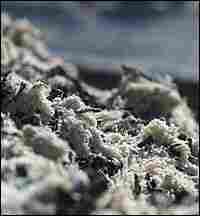 Thoroughbred horse racing is a big-money industry, and when horses like Triple Crown hopeful Barbaro get injured, the damages — in pain and suffering for the animals, and in costs to their owners — can be huge.
Some racetracks are replacing their traditional dirt tracks with an artificial surface called Polytrack, which is touted to reduce injuries. However, many jockeys are skeptical.
Noah Adams reports from the Keeneland Racetrack in Kentucky.